Pretty Girl-13
By Liz Coley
Source: Library
My Rating: 3.5 / 5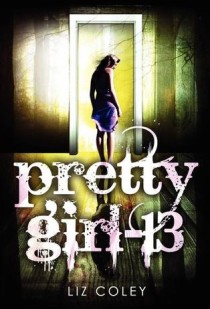 Goodreads summary:
Reminiscent of the Elizabeth Smart case, Pretty Girl-13 is a disturbing and powerful psychological mystery about a girl who must piece together the story of her kidnapping and captivity.

Angie Chapman was thirteen years old when she ventured into the woods alone on a Girl Scouts camping trip. Now she's returned home…only to find that it's three years later and she's sixteen-or at least that's what everyone tells her.

What happened to the past three years of her life?

Angie doesn't know.

But there are people who do — people who could tell Angie every detail of her forgotten time, if only they weren't locked inside her mind. With a tremendous amount of courage, Angie embarks on a journey to discover the fragments of her personality, otherwise known as her "alters." As she unearths more and more about her past, she discovers a terrifying secret and must decide: When you remember things you wish you could forget, do you destroy the parts of yourself that are responsible?

Liz Coley's alarming and fascinating psychological mystery is a disturbing – and ultimately empowering page-turner about accepting our whole selves, and the healing power of courage, hope, and love.
I'd read some mixed reviews on this book, but was intrigued by its premise. The story begins with Angie looking for a spot to go to the bathroom on a camping trip, and then suddenly finding herself on her suburban street. When she gets home, she's shocked at her parents' reaction, and their insistence that she's been missing for three years. Even though she feels like a thirteen year old girl, she can't ignore the evidence – her clothes no longer fitting, her body's changes, her hair being much longer – that time has passed. But why doesn't she remember anything? Where has she been this whole time?
Angie has been through something awful, and parts of the book made me very uncomfortable, but the way Angie deals with those experiences was the focus of the book. DID (dissociative identity disorder) was fascinating to read about, as Angie learned about it herself in her therapy sessions. Unravelling the story of each alter, and trying to integrate them all, was really interesting.
Angie was such a great character. I can't imagine going through anything like what she did, and to arrive home and realize that three years have passed, that your family was looking for you, your childhood friends had grown up – Angie has to deal with all of this change, along with trying to find out what happened to her. I also felt for her parents, who had been dealing with Angie's disappearance, and suddenly had her back.
I couldn't put this book down. I kept reading it even when I told myself I'd just read one more page, because I had to know what happened. There was a plot twist towards the end that I thought was a bit of a stretch, but overall, this was a fascinating, compelling read.
Related Posts