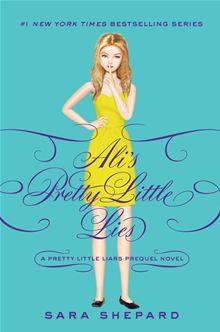 Ali's Pretty Little Lies
By Sara Shepard Series:
Pretty Little Liars #0.5
Source
Purchased
Published by
HarperTeen
on January 2, 2013
Rating:

Before there was A, there was Alison DiLaurentis. Boys wanted to date her, girls wanted to be her, and somebody wanted her dead. . . .

It's the end of seventh grade, and Alison DiLaurentis and her friends are the girls of Rosewood Day. Ali runs her clique with an iron fist, and she's got enough dirt on Hanna, Emily, Aria, and Spencer to keep them in line. But Ali's hiding a dark secret of her own, something so huge it would destroy everything if it ever got out. She's desperate to keep the perfect life she's worked so hard to build, but in Rosewood deadly secrets have deadly consequences. . . .

Set in the weeks leading up to Ali's murder, this special Pretty Little Liars tale is told by the prettiest little liar of all: Ali herself. For the first time ever, we see how the mystery began . . . and how Alison DiLaurentis's life ended.
As soon as I finished reading Burned, I had a craving for more PLL! Thankfully, this book (which is a prequel to the entire series) just came out earlier in the month.
THERE WILL BE MAJOR SPOILERS FOR THE SERIES IN THIS POST. If you don't want to know anything before reading these books, stop here!
I was sooooo excited to read this book, from Ali/Courtney's perspective. Actually, it's told from Courtney's perspective – Ali's twin sister who was sent away to a mental ward and then came back at the end of grade seven, switched places with the real Ali – who was then sent to a new facility, because everyone thought she was Courtney – and took over Ali's life.
It was so cool to see certain scenes that I've already read about in past books, but from 'Ali's' perspective, e.g. the flag scene; Emily's crush on Ali; Ian and Spencer kissing; and the end-of-grade-seven sleepover the girls had in Melissa's barn. While her actions seemed mean when I read the other books, seeing things from her side definitely made me see things differently! As I got to know 'Ali' (who was really Courtney), I actually liked her. She was definitely a bitch, but she was partly trying to keep up appearances that she was really Ali, and partly trying to convince herself, too, I think. And knowing that she wasn't A helped – the events of the rest of the series take place after Courtney's death (but everyone thinks it's Ali's body that's discovered), when A begins to torture Hanna, Spencer, Aria, and Emily. She felt so abandoned by her family that I couldn't help but feel for her.
I also feel like I got to know more about the real Ali in this story, and boy is she psycho! She totally came of as manipulative, controlling, and dangerous. In fact, Courtney was sent away in the first place because of Ali – Courtney wasn't dangerous and violent, Ali was, but Ali convinced everyone it was the other way around.
Because I knew Courtney was going to die by the end of the book – and that Ali was her killer – the more I got to know and sort of like Courtney, the more tragic the book became. I kept thinking that if Courtney could have somehow come clean about everything, maybe she could have survived and stayed friends with the girls, but I knew there was no way that was going to happen.
This book also shed some light on who new A (the one stalking the girls in Burned) might be – and I think it definitely supports the idea that there were at least two people working together (one being Ali).
I loved this book. Even though a lot of the events were ones I've read about already, it was told from a new perspective and totally shed some light on Ali and Courtney, the most mysterious characters in the series so far. If you're a Pretty Little Liars fan, this book is a must read!