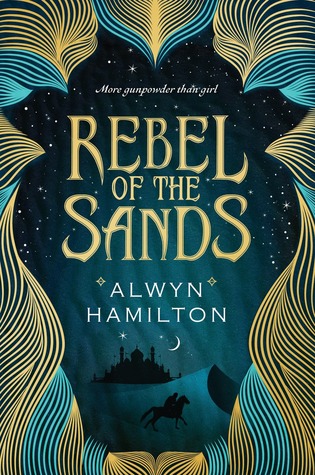 Rebel of the Sands
By Alwyn Hamilton Series:
Rebel of the Sands #1
Source
Received from the publisher
Published by
Viking Books for Young Readers
on March 8, 2016
Received from the publisher in exchange for an honest review. This does not affect my opinion of the book or the content of my review.
Rating:

Cover image and summary from Goodreads:

She's more gunpowder than girl—and the fate of the desert lies in her hands.

Mortals rule the desert nation of Miraji, but mystical beasts still roam the wild and barren wastes, and rumor has it that somewhere, djinni still practice their magic. But there's nothing mystical or magical about Dustwalk, the dead-end town that Amani can't wait to escape from.

Destined to wind up "wed or dead," Amani's counting on her sharpshooting skills to get her out of Dustwalk. When she meets Jin, a mysterious and devastatingly handsome foreigner, in a shooting contest, she figures he's the perfect escape route. But in all her years spent dreaming of leaving home, she never imagined she'd gallop away on a mythical horse, fleeing the murderous Sultan's army, with a fugitive who's wanted for treason. And she'd never have predicted she'd fall in love with him...or that he'd help her unlock the powerful truth of who she really is.
Rebel of the Sands was on my radar for a long time, and I was so excited to receive this ARC.
My first thought when I finished reading was 'What an adventure!' I felt like there was never a dull moment here. The story moved along at a great pace, keeping me on my toes, because it also wasn't predictable. Rebel of the Sands was just so fun and exciting!
Aside from the exciting story, what really stuck out to me here was how well-written the book is. This is Alwyn Hamilton's debut novel, I believe, and I will read anything else she writes, because I just fell in love with her writing.
And I loved Amani! She was strong but vulnerable, fierce and intelligent. I was really happy that this is book one of a series, because I really enjoyed Rebel of the Sands, and can't wait to read the next installment. Highly recommended!