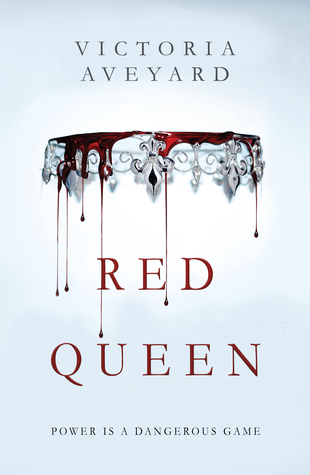 Red Queen
By Victoria Aveyard Series:
Red Queen Trilogy #1
Source
Received from the publisher via Edelweiss
Published by
Orion
on February 10, 2015
Received from the publisher via Edelweiss in exchange for an honest review. This does not affect my opinion of the book or the content of my review.
Rating:

Cover image and summary from Goodreads:

The poverty stricken Reds are commoners, living under the rule of the Silvers, elite warriors with god-like powers.

To Mare Barrow, a 17-year-old Red girl from The Stilts, it looks like nothing will ever change.

Mare finds herself working in the Silver Palace, at the centre of
those she hates the most. She quickly discovers that, despite her red blood, she possesses a deadly power of her own. One that threatens to destroy Silver control.

But power is a dangerous game. And in this world divided by blood, who will win?
This book had so much buzz that I'd been excited to read it for months before I actually picked it up. I had really high expectations for Red Queen, and it did not disappoint!
I must admit that I was pretty slow to get into this book. I liked that the beginning of the story showed me Mare's life and relationship with her family, but I felt as though I kept waiting for something to grab me.
Once I got into it though, I was hooked! I loved the action, the worldbuilding, the twisty story, and the characters. Mare was sharp, strong, a bit sassy, and I was a fan of hers right away! I also surprised myself by enjoying the love triangle. It all played out the way I thought it would, and I loved watching it all unfold.
The ending of this book has me anxiously waiting on book two. Red Queen is a gripping, exciting story full of fantastic, complex characters that will have you looking forward to the sequel! Highly recommended!