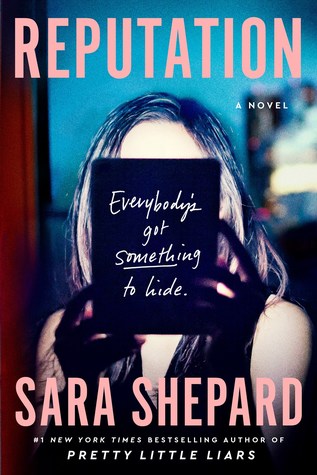 Reputation
By Sara Shepard Source
Received from the publisher
Published by
Penguin Publishing Group
on December 3, 2019
Received from the publisher in exchange for an honest review. This does not affect my opinion of the book or the content of my review.
Rating:

In this fast-paced new novel from Sara Shepard, the #1 New York Times bestselling author of Pretty Little Liars, a tight-knit college town scrambles for answers when an e-mail hack reveals life-changing secrets and scandals.

Aldrich University is rocked to its core when a hacker dumps 40,000 people's e-mails—the entire faculty, staff, students, alums—onto an easily searchable database. Rumors and affairs immediately leak, but things turn explosive when Kit Manning's handsome husband, Dr. Greg Strasser, is found murdered. Kit's sister, Willa, returns for the funeral, setting foot in a hometown she fled fifteen years ago, after a night she wishes she could forget. As an investigative reporter, Willa knows something isn't right about the night Greg was killed, and she's determined to find the truth. What she doesn't expect is that everyone has something to hide. And with a killer on the loose, Willa and Kit must figure out who killed Greg before someone else is murdered.

Told from multiple points of view, Reputation is full of twists, turns, and shocking reveals. It's a story of intrigue, sabotage, and the secrets we keep—and how far we go to keep them hidden. Number one bestseller Sara Shepard is at the top of her game in this brand-new adult novel.
I am so sad that I didn't love this book! I'm generally a big Sara Shepard fan (I loved the Pretty Little Liars and Lying Game series, but admittedly I have not read as much of her adult fiction).
This book just didn't grab me. I thought the idea was really interesting but the execution didn't work for me. There were too many characters/perspectives to follow, but none of them felt distinct from each other. If I put the book down and came back to it later, I couldn't always tell which character the chapter centered on without going back to check.
The book and pacing picked up steam towards the end, but by then I have to admit that I was so uninvested. So despite my initial excitement to read Reputation, this was a disappointing read for me.