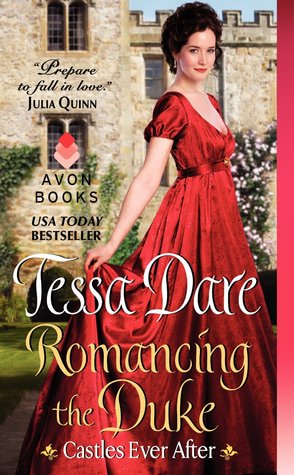 Romancing the Duke
By Tessa Dare Series:
Castles Ever After #1
Source
Purchased
Published by
Avon
on January 28, 2014
Rating:

As the daughter of a famed author, Isolde Ophelia Goodnight grew up on tales of brave knights and fair maidens. She never doubted romance would be in her future, too. The storybooks offered endless possibilities.

And as she grew older, Izzy crossed them off. One by one by one.

Ugly duckling turned swan?
Abducted by handsome highwayman?
Rescued from drudgery by charming prince?

No, no, and… Heh.

Now Izzy's given up yearning for romance. She'll settle for a roof over her head. What fairy tales are left over for an impoverished twenty-six year-old woman who's never even been kissed?

This one.
I've been reading the occasional romance book over the past year or so, trying to find ones that I like, and Tessa Dare is an author who was frequently recommended to me. I've generally enjoyed the historical / regency romances I've read, and this book in particular was recommended to me on Litsy.
Eventually, I started reading it, and I wish I'd read it sooner! This book was so fun and sweet. I loved the story, and felt for Izzy immediately. She was broke, alone, and had nowhere to go – until she inherited a mysterious castle. But things are not what they seem, with the castle or the duke who refuses to leave.
Part of what I loved about this book so much was Izzy. She was funny, clever, and tenacious. And in a way, this book is about stories and writing, and I really enjoyed that aspect. I don't want to say too much and risk spoilers, but I loved the way the plot about Izzy's late father's stories unfolded.
The romance was very swoony, and I was pleasantly surprised by the reveals and character development of Ransom (the duke). I think I was still holding on to some preconceived ideas about romance books, and Romancing the Duke showed me that I was wrong.
I enjoyed this book and will definitely be reading more by Tessa Dare!