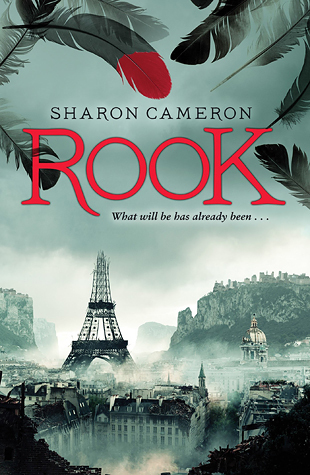 Rook
By Sharon Cameron Source
Purchased
Published by
Scholastic Press
on April 28, 2015
Rating:

Cover image and summary from Goodreads:

History has a way of repeating itself. In the Sunken City that was once Paris, all who oppose the new revolution are being put to the blade. Except for those who disappear from their prison cells, a red-tipped rook feather left in their place. Is the mysterious Red Rook a savior of the innocent or a criminal?

Meanwhile, across the sea in the Commonwealth, Sophia Bellamy's arranged marriage to the wealthy René Hasard is the last chance to save her family from ruin. But when the search for the Red Rook comes straight to her doorstep, Sophia discovers that her fiancé is not all he seems. Which is only fair, because neither is she.

As the Red Rook grows bolder and the stakes grow higher, Sophia and René find themselves locked in a tantalizing game of cat and mouse.
I really wanted to read this book because it was partially inspired by a story I really enjoyed when I was young – The Scarlet Pimpernel (I also love the old black and white film adaptation from the 1930s).
I read the first 100 pages quite quickly, then stalled. It took about two months for me to finish reading Rook, which is an incredibly long time for me to read a book. I was very interested in the story, or at least the idea of it, but when I was actually reading it, I found that my mind wandered quite frequently. I just wasn't pulled into the story, and the book felt overly long to me.
However, I loved the setting, the romance between Sophia and Rene, and the way technology and objects from our present day were seen as mysterious artifacts.
I have mixed feelings about the book, but would recommend it if you're intrigued by the premise.