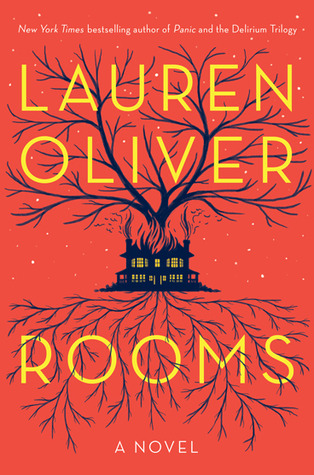 Rooms
By Lauren Oliver Source
Received from the publisher at BEA
Published by
Ecco
on September 23, 2014
Received from the publisher at BEA in exchange for an honest review. This does not affect my opinion of the book or the content of my review.
Rating:

Cover image and summary from Goodreads:

The New York Times bestselling author of Before I Fall and the Delirium trilogy makes her brilliant adult debut with this mesmerizing story in the tradition of The Lovely Bones, Her Fearful Symmetry, and The Ocean at the End of the Lane—a tale of family, ghosts, secrets, and mystery, in which the lives of the living and the dead intersect in shocking, surprising, and moving ways

Wealthy Richard Walker has just died, leaving behind his country house full of rooms packed with the detritus of a lifetime. His estranged family—bitter ex-wife Caroline, troubled teenage son Trenton, and unforgiving daughter Minna—have arrived for their inheritance.

But the Walkers are not alone. Prim Alice and the cynical Sandra, long dead former residents bound to the house, linger within its claustrophobic walls. Jostling for space, memory, and supremacy, they observe the family, trading barbs and reminiscences about their past lives. Though their voices cannot be heard, Alice and Sandra speak through the house itself—in the hiss of the radiator, a creak in the stairs, the dimming of a light bulb.

The living and dead are each haunted by painful truths that will soon surface with explosive force. When a new ghost appears, and Trenton begins to communicate with her, the spirit and human worlds collide—with cataclysmic results.

Elegantly constructed and brilliantly paced, Rooms is an enticing and imaginative ghost story and a searing family drama that is as haunting as it is resonant.
Before I get into this review, I should note that my ARC was missing about 30 pages: it jumped from page 116 to 149. I don't know what I missed, so that likely has an impact on my thoughts about the book!
I loved Lauren Oliver's Rooms and Before I Fall, and was really excited to read her adult fiction. As I expected, her writing is fantastic. It pulled me in and, although I was slow to get into this book, I soon reached a point where I didn't want to put it down! Sadly, shortly after that, I discovered that my book was missing pages! I was, to say the least, quite frustrated.
While not quite a mystery, Rooms slowly drew out and revealed secrets about many of its characters. I liked the gradual way this was done, but I was definitely left missing something crucial because of the missing pages in the copy I read.
The characters were…what's a polite way of saying damaged? I know a number of bloggers who have said that they like reading about broken or damaged characters – so I think they'd like this book! Everyone seemed to have a secret that they wanted to keep, or something that they were trying to push down and forget. Of course, being reunited after their father's (or husband's) death and under the same roof brought it all to the surface, and there was a slow burn as everything moved towards what seemed to be an inevitable conclusion, with secrets coming out along the way.
As Rooms illustrates, family is not always easy. I'm happy that mine is not like the Walker family! But we all grow and change, and as we do, we see our parents and siblings in a different light than we did as children. Lauren Oliver captured the feeling of nostalgia, and looking back and maybe wishing we could have the relationships with our family members that we used to when things seemed simpler.
That said, while the characters were interesting and I wanted to read more about them, I felt emotionally detached from them.
While there are ghosts in this book, it wasn't spooky or frightening. Again, I don't know what I missed out on between pages 117 and 148, but if you're apprehensive about reading a ghost story, don't be. The ghosts in this book are just as interesting to read about – if not more so – than the Walkers.
I'm not sure how to rate a book that had missing pages! I enjoyed what I read: I loved Lauren Oliver's writing and really enjoyed the supernatural element, but felt disconnected from the characters. As a Lauren Oliver fan, though, I recommend this book. And I'm now eagerly anticipating her upcoming YA release, Vanishing Girls, out next year!