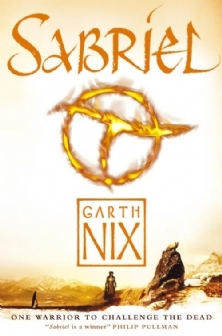 Sabriel
By Garth Nix Series:
Abhorsen #1
Source
Purchased
Published by
Harper Collins
on May 6, 2003 (originally published 1995)
Rating:

Cover image and summary from Goodreads:

Sent to a boarding school in Ancelstierre as a young child, Sabriel has had little experience with the random power of Free Magic or the Dead who refuse to stay dead in the Old Kingdom. But during her final semester, her father, the Abhorsen, goes missing, and Sabriel knows she must enter the Old Kingdom to find him.

With Sabriel, the first installment in the Abhorsen trilogy, Garth Nix exploded onto the fantasy scene as a rising star, in a novel that takes readers to a world where the line between the living and the dead isn't always clear—and sometimes disappears altogether.
Sabriel by Garth Nix is one oof those books I'd been hearing about for so long before I finally got around to reading it – the longer I wanted to read it, the more nervous I became: what if I didn't love it? What if it was boring or confusing? Knowing it was so loved made me worried about whether or not I would love it myself.
Happily, though, I did love it! This book was imaginative and exciting and so unique. I loved the character Sabriel, and her search for her father. And there were characters who seemed neither 'good' nor 'bad' – I love books with complex characters, whose motives cannot be readily discerned. It keeps me on my toes, and makes me feel uneasy at times.
There were so man things in this book that draw me to a story: action, mystery, battles between good and evil forces, dead things coming back to life, awesome female characters, magic, a boarding school…honestly, I'm a bit angry at myself for taking so long to read this one!
I've already got the rest of the series on my bookshelf, and I can't wait to read the sequel, Lirael. If you're a fan of fantasy novels, Sabriel is a must-read!