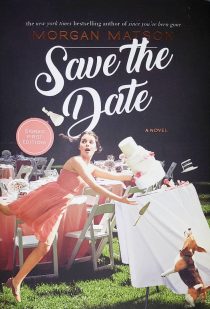 Save the Date
By Morgan Matson Source
Purchased
Published by
Simon & Schuster Books for Young Readers
on June 5, 2018
Rating:

Charlie Grant's older sister is getting married this weekend at their family home, and Charlie can't wait—for the first time in years, all four of her older siblings will be under one roof. Charlie is desperate for one last perfect weekend, before the house is sold and everything changes. The house will be filled with jokes and games and laughs again. Making decisions about things like what college to attend and reuniting with longstanding crush Jesse Foster—all that can wait. She wants to focus on making the weekend perfect.

The only problem? The weekend is shaping up to be an absolute disaster.

There's the unexpected dog with a penchant for howling, house alarm that won't stop going off, and a papergirl with a grudge.
There are the relatives who aren't speaking, the (awful) girl her favorite brother brought home unannounced, and a missing tuxedo.
Not to mention the neighbor who seems to be bent on sabotage and a storm that is bent on drenching everything. The justice of the peace is missing. The band will only play covers. The guests are all crazy. And the wedding planner's nephew is unexpectedly, distractingly…cute.
Over the course of three ridiculously chaotic days, Charlie will learn more than she ever expected about the family she thought she knew by heart. And she'll realize that sometimes, trying to keep everything like it was in the past means missing out on the future.
I have really enjoyed Morgan Matson's previous books, so I was definitely looking forward to reading Save the Date! Morgan Matson's books are always fun summer reads, and I was so excited to dig into this one.
I enjoyed parts of Save the Date. I liked the family-centred story and the idea of Charlie's mom having a famous comic strip about her family. And the scenes with Charlie and Bill were all very fun and cute.
But I didn't love this book. More often than not, I found myself annoyed with Charlie and her various family members, and I really didn't like that her mom had definitely inserted real people into her comic as terrible versions of themselves. It felt so petty and mean, particularly View Spoiler » the young papergirl. There was something that struck me as so wrong about Charlie's mom thinking their young papergirl was not delivering their papers and so deciding to put an awful version of her in the comic strip. I guess the way Charlie's mom took from real life for her comics didn't sit well with me, when it was used to enact some sort of revenge on real people. « Hide Spoiler
I also started to feel way too anxious reading about all of the wedding mishaps to really enjoy that aspect of the book! Sometimes it would lead to something fun, like View Spoiler » Charlie and Bill decorating for a kid's birthday « Hide Spoiler but other times it just distressed me, like View Spoiler » finding the guy who had received the groom's suit by mistake and simply refused to give it back, even knowing it was someone's wedding day. « Hide Spoiler I guess a comedy of errors is not something I really enjoy.
So while Save the Date had its moments, I didn't love this book as much as I've loved Morgan Matson's others.