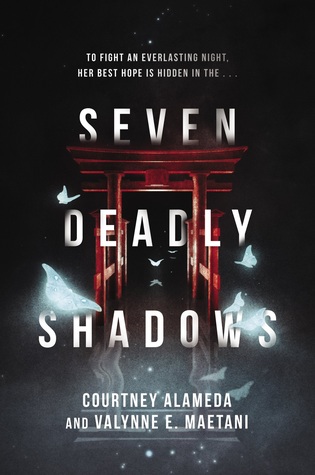 Seven Deadly Shadows
By Courtney Alameda, Valynne E. Maetani Source
Received from the publisher
Published by
HarperCollins
on January 28, 2020
Received from the publisher in exchange for an honest review. This does not affect my opinion of the book or the content of my review.
Rating:

Kira Fujikawa has always been a girl on the fringe. Bullied by her peers and ignored by her parents, the only place Kira's ever felt at home is at her grandfather's Shinto shrine, where she trains to be a priestess.

But Kira's life is shattered on the night her family's shrine is attacked by a vicious band of yokai demons. With the help of Shiro—the shrine's gorgeous half-fox, half-boy kitsune—Kira discovers that her shrine harbors an ancient artifact of great power . . . one the yokai and their demon lord, Shuten-doji, will use to bring down an everlasting darkness upon the world.

Unable to face the Shuten-doji and his minions on her own, Kira enlists the aid of seven ruthless shinigami—or death gods—to help stop the brutal destruction of humankind. But some of the death gods aren't everything they initially seemed, nor as loyal to Kira's cause as they first appeared.

With war drawing nearer by the day, Kira realizes that if this unlikely band of heroes is going to survive, they're going to have to learn to work together, confront their demons, and rise as one to face an army of unimaginable evil.
I was definitely drawn to this book by the premise. It sounded so interesting and exciting!
I definitely liked the story and the world, but for some reason I just didn't get emotionally pulled into this one. I also felt that the relationship between Kira and her family wasn't explored in depth or really resolved.
But this had a really cool action/adventure vibe, and the fight scenes were so fun to read. So overall I liked this one!