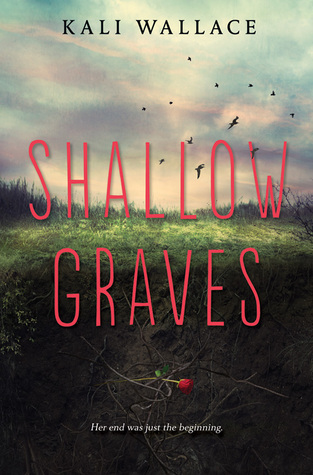 Shallow Graves
By Kali Wallace Source
Received from the publisher via Edelweiss
Published by
Katherine Tegen Books
on January 26, 2016
Received from the publisher via Edelweiss in exchange for an honest review. This does not affect my opinion of the book or the content of my review.
Rating:

Cover image and summary from Goodreads:

Breezy remembers leaving the party: the warm, wet grass under her feet, her cheek still stinging from a slap to her face. But when she wakes up, scared and pulling dirt from her mouth, a year has passed and she can't explain how.

Nor can she explain the man lying at her grave, dead from her touch, or why her heartbeat comes and goes. She doesn't remember who killed her or why. All she knows is that she's somehow conscious—and not only that, she's able to sense who around her is hiding a murderous past.

Haunted by happy memories from her life, Breezy sets out to find answers in the gritty, threatening world to which she now belongs—where killers hide in plain sight, and a sinister cult is hunting for strange creatures like her. What she discovers is at once empowering, redemptive, and dangerous.

Debut author Kali Wallace interweaves folklore and myths from all over the world in this stunning novel about the heartbreaking trauma of a girl's life cut short and her struggle to reconcile her humanity with the monster she's become.
I was excited to read this book because for me, that blurb/premise was irresistible!
I loved the way the story was told, moving between Breezy's past and present, and while this story went in a direction that I didn't expect, I liked it!
For me, the middle of the book was really slow, but I quite liked the beginning and the end. Recommended.