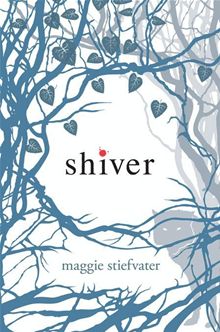 Shiver
By Maggie Stiefvater Series:
The Wolves of Mercy Falls #1
Source
Purchased
Published by
Scholastic Press
on August 1, 2009
Rating:

For years, Grace has watched the wolves in the woods behind her house. One yellow-eyed wolf—her wolf—is a chilling presence she can't seem to live without.

Meanwhile, Sam has lived two lives: In winter, the frozen woods, the protection of the pack, and the silent company of a fearless girl. In summer, a few precious months of being human… until the cold makes him shift back again.

Now, Grace meets a yellow-eyed boy whose familiarity takes her breath away. It's her wolf. It has to be. But as winter nears, Sam must fight to stay human—or risk losing himself, and Grace, forever.
This had been on my TBR for some time, and is the first book in a trilogy.
On the whole, this is a pretty good book. I was hesitant at first, thinking, "Another teenager-werewolf-supernatural-romance"? BUT…I was pleasantly surprised. This is not like other books with which it may share a genre.
Grace, the main character, is smart, mature, responsible – as someone who is not a teenager anymore, I still found her relatable and I liked her. She has a thing for the wolves that live in the woods near her home, especially the yellow-eyed wolf. One day, she finds a boy with those eyes, and she knows that it has to be him – her wolf.
He is Sam, a boy with a somewhat tragic past, who has lived two lives – the wolf and the human. While he and Grace get to know each other, we learn more about Sam's life and how he came to be a wolf. This back story is really interesting, and I think it has implications for story lines that will probably be explored in the rest of the series (I hope).
The story is told with most chapters alternating between Grace's and Sam's perspective, which was really nice – I liked getting to know each character equally as well as the other. It helped me care about them both.
Their relationship develops quickly but still somewhat believably. They're flirtatious and joke with each other and do the little things that make relationships seem real – it isn't all dark and heavy and brooding. It was nice to read about a relationship that has its lighter moments.
One of my gripes, though, is that Grace's parents are just so absent – they are always out somewhere, coming home late, leaving Grace to basically raise herself. She has Sam sleeping in her room for days and days at a time without her parents noticing. Let me tell you – my parents would definitely have known if I tried to hide anyone in my room. I understand, as a plot device, why Grace's 'absent' parents work in this story, but it really irritates me to read YA novels where the parents are just so ignorant and/or negligent. How and why do these parents not seem to care about what is going on in their childrens' lives???
I thought it was an interesting twist that Sam, and the other werewolves in his pack, can only keep their human form until the temperature dips too low – then they can't help turning into a wolf, and usually stay that way for the winter. It lent an immediacy to the later plot points, and I'm sure it will factor into the other two books in the series.
Aside from my rant about Grace's parents, I liked this book – a lot more than I thought I would, to be honest. I definitely recommend it.