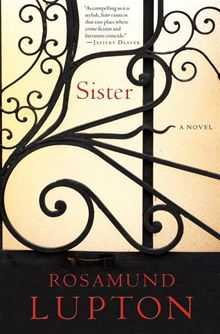 Sister
By Rosamund Lupton Source
Purchased
on June 7, 2011
Rating:

Nothing can break the bond between sisters ...When Beatrice gets a frantic call in the middle of Sunday lunch to say that her younger sister, Tess, is missing, she boards the first flight home to London. But as she learns about the circumstances surrounding her sister's disappearance, she is stunned to discover how little she actually knows of her sister's life - and unprepared for the terrifying truths she must now face.The police, Beatrice's fiance and even their mother accept they have lost Tess but Beatrice refuses to give up on her. So she embarks on a dangerous journey to discover the truth, no matter the cost.
This is a new book that I put on my TBR list recently, and got to it sooner than I thought I would!
This was a very well-paced, well-written book that I couldn't put down. I wanted to read as much as I could at a time in order to find out what really happened to Tess, and the mystery was very well done, with a good build up and satisfying reveal.
Bee lives in New York, but returns home to London when her mother calls to inform her that her younger sister, the free-spirited Tess, is missing. Bee's fiancé stays behind, as she expects to return to New York in a few days, certain that Tess has just taken off on an impromptu adventure, which would not be out of character.
However, as Bee spends more time in London and in Tess's flat, she develops the uneasy feeling that something is wrong. Then Tess's body is found, and the police and medical examiner conclude that she committed suicide. This is something that Bee cannot accept, and her attempts to persuade her mother and the police are unsuccessful. Bee is certain that, because their younger brother died from cystic fibrosis, Tess understood the value of a human life and would never have taken her own.
Bee is determined to uncover the truth, and investigates on her own, discovering along the way that Tess had been pregnant, was involved with a married man, and was participating in some sort of medical trial for cystic fibrosis.
The story was interesting and the different plot twists were entertaining. I never knew where this was going to go next, which certainly kept me interested. Eventually, right before the truth is revealed about what happened to Tess, there were a few moments that I thought were a bit predictable, but it didn't wreck my enjoyment of the book.
The characters were very well-written. Bee seemed so real to me. I really liked her, perhaps because she reminded me of myself! Where Tess was an artistic free spirit, Bee was more cautious, careful, and reserved. I could identify with that. Like Bee, I am not a risk taker, and prefer stability and order in my life over the unknown.
As the story progresses, though, Bee changes, and she does begin to take risks and chances. In a way, this brings her closer to Tess. While Bee thought, at the beginning of the book, that she knew her sister well, by the end she learns that she didn't know her sister as well as she thought. Knowing things about a person doesn't equate to really knowing who that person is. Ultimately, Bee gains a real understanding of who her sister was: kind, caring, talented, and compassionate.
Bee's relationship with her fiancé changes as well, and I think that their relationship was another example of her desire for stability in her life. When Tess's body is found, Bee's fiancé travels to London to be with her, and his presence in her new life makes her see their relationship in a different light.
Bee's relationship with her mother changes over the course of the novel as well, and these scenes really touched me. Reading about the mother-daughter relationship always tugs at my heartstrings! I am not a mother – not even close, and don't plan on becoming one – but I love my mother very much, and I think we have a great relationship. Reading about Bee's strained relationship with her mother, and then watching it develop into one of love and respect, was very satisfying.
The story is narrated by Bee, recounting these events to the deceased Tess, as though she is writing her a letter. While describing the events to Tess, she also recounts for her that she is meeting with a lawyer who is prosecuting the man behind Tess's death, and giving him her statement, which will be very important for the upcoming trial.
There is a twist at the end, and I haven't quite made up my mind how I feel about it. On the one hand, I feel a bit cheated. On the other hand, it was cleverly planned and hinted at throughout the novel and I liked looking back to see these hints.  I fear that I can't say any more without spoiling anything, so I'll stop there.
Overall, I thought this was a very good book, and I really could not tear myself away from it! Despite my thoughts on the ending, I recommend the book, and would love to hear from someone else who has read this!