Sky on Fire (Monument 14 #2)
By Emmy Laybourne
Source: Library
My Rating: 3 / 5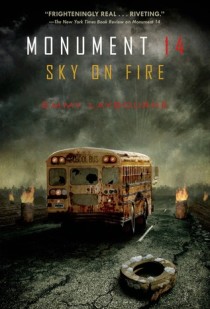 This is the sequel to Monument 14, which I read a couple of months ago.
Spoiler alert!
Goodreads summary:
Trapped in a superstore by a series of escalating disasters, including a monster hailstorm and terrifying chemical weapons spill, brothers Dean and Alex learned how to survive and worked together with twelve other kids to build a refuge from the chaos. But then strangers appeared, destroying their fragile peace, and bringing both fresh disaster and a glimmer of hope.

Knowing that the chemical weapons saturating the air outside will turn him into a bloodthirsty rage monster, Dean decides to stay in the safety of the store with Astrid and some of the younger kids. But their sanctuary has already been breached once. . . .

Meanwhile, Alex, determined to find their parents, heads out into the darkness and devastation with Niko and some others in a recently repaired school bus. If they can get to Denver International Airport, they might be evacuated to safety. But the outside world is even worse than they expected. . .
This book was short, so it was a really quick read. On the one hand, I appreciated that it wasn't overly long. On the other hand, maybe the story should have gone into more depth or detail about certain elements.
The big thing that I liked about this book was that it was told in both Dean's perspective, and his younger brother Alex's perspective. Dean stayed behind in the Greenway with Astrid and some of the kids, while Alex went with Niko and the majority of the group on the bus, in an attempt to make it to the airport in Denver, where there is rumoured to be help.
What I really loved about having the different perspectives was that it let me get a sense of the outside world, away from the store. While I liked Monument 14, 99% of the story took place in the store, and I couldn't help but wonder about what was going on outside of it; what happened to the rest of the world? This book definitely gave me that, and I loved getting a sense of the eeriness of it all. It really didn't take long for things to fall apart!
I also liked Alex as a narrator. He was intelligent and sort of socially awkward, and I found him really likeable. Other than Alex, though, I didn't really feel like I connected to the characters. I liked them – particularly Niko – but I didn't care about them or feel emotionally attached to them.
The writing in this book was fine, nothing really great but I didn't find it as annoying or irritating as I've seen other people say in their reviews. Alex and Dean are young, and I think the writing reflected their ages.
The book is set in the not too distant future (2024, I think?) and I'm still not sure how important/relevant that is or will be in the remainder of the series. Maybe it will mean something more in the next book, but other than some technology referenced mostly in Monument 14, it didn't seem to matter, and in fact, I barely remembered that it wasn't set in the present day.
Overall, this was another fun, quick read, recommended if you like survival stories. I'll be reading the next in the series, whenever it comes out.
Related Posts