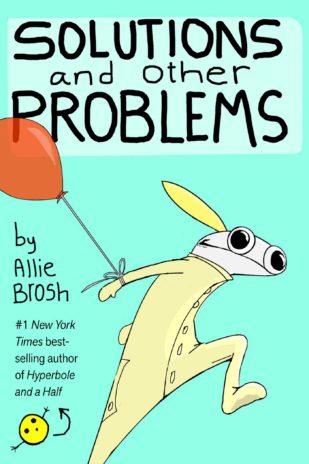 Solutions And Other Problems
By Allie Brosh Source
Purchased
Published by
Gallery Books
on September 22, 2020
Rating:

For the first time in seven years, Allie Brosh—beloved author and artist of the extraordinary #1 New York Times bestseller Hyperbole and a Half—returns with a new collection of comedic, autobiographical, and illustrated essays.

Solutions and Other Problems includes humorous stories from Allie Brosh's childhood; the adventures of her very bad animals; merciless dissection of her own character flaws; incisive essays on grief, loneliness, and powerlessness; as well as reflections on the absurdity of modern life.

This full-color, beautifully illustrated edition features all-new material with more than 1,600 pieces of art. Solutions and Other Problems marks the return of a beloved American humorist who has "the observational skills of a scientist, the creativity of an artist, and the wit of a comedian" (Bill Gates).
I've been waiting for this book for years!! I love Hyperbole and a Half so much, and I knew I would love this book too.
It was worth the wait (the release date was pushed back several times over the years; my various preorders were cancelled; etc.). Allie Brosh addresses the delay on the book and I knew some of what she had been through in the last few years but not everything. The book touches on some really difficult stuff, but it also made me laugh, and I just adore her art.
This was poignant, colourful, funny, and I just loved it.