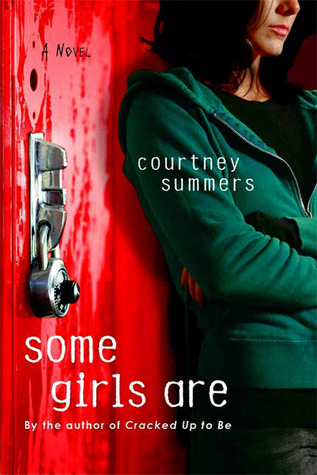 Some Girls Are
By Courtney Summers Source
Purchased
Published by
St. Martin's Griffin
on January 5, 2010
Rating:

Cover image and summary from Goodreads:

Climbing to the top of the social ladder is hard—falling from it is even harder.  Regina Afton used to be a member of the Fearsome Fivesome, an all-girl clique both feared and revered by the students at Hallowell High... until vicious rumors about her and her best friend's boyfriend start going around.  Now Regina's been "frozen out" and her ex-best friends are out for revenge.  If Regina was guilty, it would be one thing, but the rumors are far from the terrifying truth and the bullying is getting more intense by the day.  She takes solace in the company of Michael Hayden, a misfit with a tragic past who she herself used to bully.  Friendship doesn't come easily for these onetime enemies, and as Regina works hard to make amends for her past, she realizes Michael could be more than just a friend... if threats from the Fearsome Foursome don't break them both first.

Tensions grow and the abuse worsens as the final days of senior year march toward an explosive conclusion in this dark new tale from the author of Cracked Up To Be.
I've had this in e-book format forever but hadn't read it. Then Ciara announced her Courtney Summers read along and I was so excited because it meant I would finally be reading this book!
Right off the bat, the characters in this story felt authentic to me. Regina's boredom at the party, sober as the designated driver while watching everyone else get drunk off their faces, and even dislike of her friends, was refreshingly realistic.
This book was a brutal look at high school and Regina's fall from the top of the food chain to the bottom. The characters are nasty and mean and relentless, and the adults (teachers, parents) are oblivious. As Regina tries to first ignore her ex-friends and their behaviour, and then fights back in an attempt to put a stop to it all, I found myself feeling more and more anxious, happy that I'd never gone through any of that in real life. It was all so mean and painful and public! Courtney Summers really knows how to write mean girls. Honestly, the things that characters in this book do to each other are vile but the story sucked me in and I couldn't put the (e)book down.
To complicate things, Regina finds herself maybe, possibly falling for Michael, a boy that she and her former friends picked on mercilessly. Watching Regina try to change, to seek forgiveness for her past behaviour, was compelling. She wasn't the sort of main character that, as the reader, you like right away, because you know she's been awful to people. But there is something about a character trying to change that makes me root for him or her, and that ended up being the case here with Regina.
This was a really fast read, probably because I couldn't put down. I couldn't wait to see how it all ended. After reading three of her books, I am solidly a Courtney Summers fan and I can't wait to read her newest book, All the Rage, out in 2015.  I definitely recommend this book!