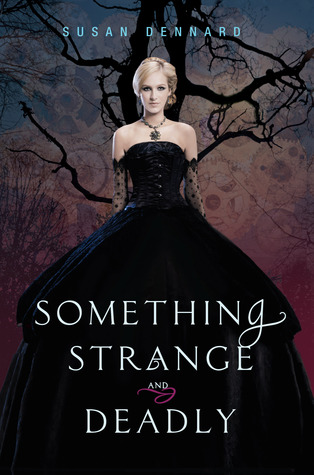 Something Strange and Deadly
By Susan Dennard Series:
Something Strange and Deadly #1
Source
Purchased
on July 24, 2012
Rating:

Cover image and summary from Goodreads:

Philadelphia 1876. The Dead are rising. A zombie delivers a letter to Eleanor Fitt. Whoever controls the Dead Army has her brother. She avoids her mother's choice of husband for the lab of Spirit Hunters, including the maddeningly stubborn yet handsome Daniel. The situation threatens her reputation, and the lives of everyone in the city.
This was a book club pick, but it's one that had been on my TBR list for ages! I loved the premise (zombies!) and once I started reading, I knew it was my kind of book.
I loved that there were zombies but that they behaved differently from what I expected, because they were being controlled by a necromancer. The book was never really scary though, so don't let that put you off if you don't want a spooky read.
The mystery and drama surrounding Eleanor's missing brother, the Spirit Hunters, the mild romance, and the strange murders in the town was all interesting and fun, yet there was something holding me back from totally falling in love with this book.
I liked the characters, I liked the writing, and I liked the story, but I didn't love the book as a whole, and it took me longer than usual to finish reading it. This is one of two books that I was reading while I was feeling super stressed and overwhelmed, and so it's entirely possible that because of things going on in my life outside of this book, I wasn't able to lose myself in the book while I was reading.
In the end, Something Strange and Deadly was fun and I definitely want to read the sequel. Recommended for a fun historical fiction paranormal mystery!