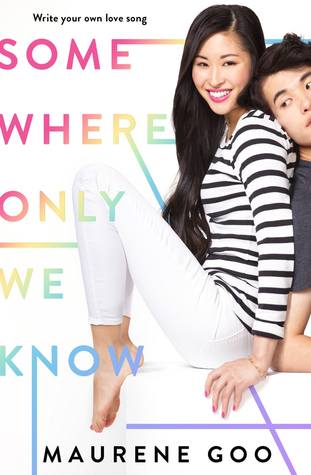 Somewhere Only We Know
By Maurene Goo Source
Received from the publisher
Published by
Farrar
,
Straus and Giroux (BYR)
on May 7, 2019
Received from the publisher in exchange for an honest review. This does not affect my opinion of the book or the content of my review.
Rating:

10 00 p.m.: Lucky is the biggest K-pop star on the scene, and she's just performed her hit song "Heartbeat" in Hong Kong to thousands of adoring fans. She's about to debut on The Tonight Show in America, hopefully a breakout performance for her career. But right now? She's in her fancy hotel, trying to fall asleep but dying for a hamburger.

11 00 p.m.: Jack is sneaking into a fancy hotel, on assignment for his tabloid job that he keeps secret from his parents. On his way out of the hotel, he runs into a girl wearing slippers, a girl who is single-mindedly determined to find a hamburger. She looks kind of familiar. She's very cute. He's maybe curious.

12:00 a.m.: Nothing will ever be the same.
I was really excited to read this because I've loved every Maurene Goo book that I've read, and I was so happy to receive an ARC from Raincoast!
In the last year or so, I've gotten into K-pop (mostly BTS but there are a couple other bands I've been listening to as well). So my K-pop love made me even more excited to read Somewhere Only We Know!
I totally got a "Roman Holiday" vibe from this book, and I loved it! I thought the alternating POV worked really well, and I was interested in reading about Lucky's career: how she worked hard for her dream, and how she was struggling to find the joy in performing like she used to. I also liked reading Jack's story. He had his own career struggles, and I knew over the course of the book that he would fall for Lucky and as he did, he would have to own up to his true intentions after realizing who she was.
Somewhere Only We Know was sweet, funny, and the descriptions of the food made me so hungry! This might be my favourite of Maurene Goo's books, and I highly recommend it, especially if you're in the mood for a sweet contemporary YA romance.