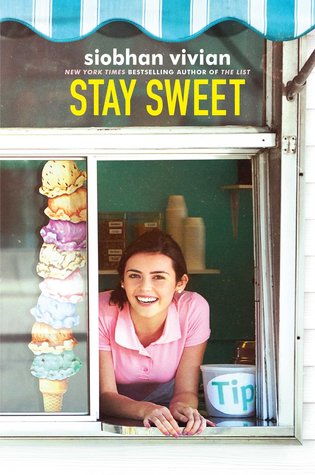 Stay Sweet
By Siobhan Vivian Source
Purchased
Published by
Simon & Schuster Books for Young Readers
on April 24, 2018
Rating:

A summer read about first love, feminism, and ice cream.
Summer in Sand Lake isn't complete without a trip to Meade Creamery—the local ice cream stand founded in 1944 by Molly Meade who started making ice cream to cheer up her lovesick girlfriends while all the boys were away at war. Since then, the stand has been owned and managed exclusively by local girls, who inevitably become the best of friends. Seventeen-year-old Amelia and her best friend Cate have worked at the stand every summer for the past three years, and Amelia is "Head Girl" at the stand this summer. When Molly passes away before Amelia even has her first day in charge, Amelia isn't sure that the stand can go on. That is, until Molly's grandnephew Grady arrives and asks Amelia to stay on to help continue the business…but Grady's got some changes in mind…
This was such a sweet, fun summer read! I loved the concept, and it just felt like the perfect thing to be reading in the middle of a mega heat wave.
It was really fun to read about Amelia working at the ice cream stand and the history behind it, and I liked Amelia trying to replicate the ice cream recipes. I'm not good at baking, so it was really cool to read about making something like ice cream that I would never in a million years attempt to make!
The romance was kind of sweet, although I did feel sometimes like Amelia was dropping everything else (like plans with her best friend and some of her work responsibilities) to help Grady.
It was great though to see Amelia become more assertive and sure of herself by the end of the story. I was really happy for her in the end although View Spoiler » I was disappointed that her parents didn't help her with the stand. « Hide Spoiler
Overall, this was a quick and fun summertime read. Recommended!