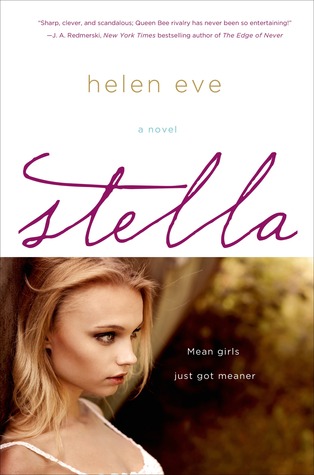 Stella
By Helen Eve Source
Received from the publisher
Published by
St. Martin's Griffin
on March 25, 2014
Received from the publisher in exchange for an honest review. This does not affect my opinion of the book or the content of my review.
Rating:

Cover image and summary from Goodreads:

Seventeen-year-old Stella Hamilton is the star blazing at the heart of Temperley High. Leader of the maliciously exclusive elite, she is envied and lusted after in equal measure. And in the Hamilton tradition, she is in the final stage of a six-year campaign to achieve her destiny: love with her equally popular male equivalent, and a triumphant election to Head Girl.

Caitlin Clarke has lived a quietly conformist life in New York City – until, with the collapse of her parents' marriage, she's sent across the Atlantic for a strict English boarding school education. As soon as she arrives at Temperley, she learns that the only important rules are the unwritten ones. The upper echelons of her new society are marked not by neat dresses and Kate Middleton hair, but by skinny jeans, cigarettes and scars.  It's a world of the beautiful and the dangerous, and acceptance means staying on the right side of the most beautiful and dangerous of them all.

As Caitlin's popularity grows, she discovers that not everyone is happy under Stella's rule – that it might finally be time for a new order among the Stars and the civilians. Fighting the system, however, means Caitlin must tread the same dark path as Stella, where absolute power and absolute destruction are only a breath away . . .
This was a book that intrigued me because it seemed to have a few key things that always pique my interest: mean girls, boarding school, and a setting in another country (England). I went into this not really knowing what to expect, and I came out of it not entirely sure how I felt about the book as a whole.
The story was alternately narrated by Stella, the leader of the Stars (our mean girl clique), and Caitlin, new to the school after moving from the USA. I wasn't expecting to get Stella's point of view, and I really liked that I got to see into her mind and read about why she acted the way she did (or in some cases, to see that she didn't entirely understand herself why she behaved certain ways).
Reading about Caitlin's rise through the ranks of the Stars was interesting, because as much as she disliked Stella's attitude and behaviour, the reader sees how she begins to think and act like Stella. It was actually pretty fascinating to watch it happen and see how Caitlin seemed to slowly become just like Stella. The effects this had on their clique and on the rest of the school was also interesting, because it isn't just their fellow Stars who were affected by the change in hierarchy – even the faculty and students who claimed not to like Stella and the Stars treated Caitlin differently after a while.
As much as I liked the two perspectives, I had a difficult time actually connecting to the characters. I didn't feel invested in the outcome, just curious to see what would happen to Caitlin if she tried to either stand up to or take over from Stella.
The end of the book was somewhat ominous, and while I'm not entirely sure about the plausibility of some of it, I'd be very curious to find out what happens next. Overall, although I didn't connect to this book or characters in a way that really drew me into the story, I thought it was an interesting, at times dark read and would recommend it to fans of contemporary YA.