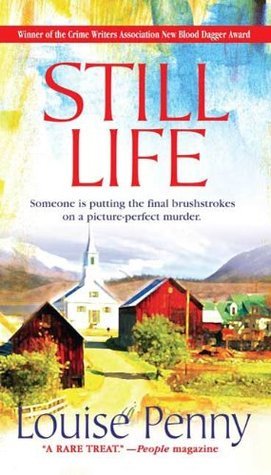 Still Life
By Louise Penny Series:
Chief Inspector Armand Gamache #1
Source
Purchased
Published by
St. Martin's Paperbacks
on May 1, 2007
Rating:

The discovery of a dead body in the woods on Thanksgiving Weekend brings Chief Inspector Armand Gamache and his colleagues from the Surete du Quebec to a small village in the Eastern Townships. Gamache cannot understand why anyone would want to deliberately kill well-loved artist Jane Neal, especially any of the residents of Three Pines - a place so free from crime it doesn't even have its own police force.

But Gamache knows that evil is lurking somewhere behind the white picket fences and that, if he watches closely enough, Three Pines will start to give up its dark secrets...
I love mysteries but it can be daunting to start a mystery in a long-running series like Louise Penny's Chief Inspector Armand Gamache. But I decided to give this series a go earlier this year and picked up book one at one of my favourite indie bookstores.
This was definitely more towards the cozy mystery end of the spectrum than I had anticipated, and cozy mysteries aren't usually my preferred read. While the mystery itself was interesting and I liked Gamache, I didn't really care for the majority of the townspeople, which was a bit of an obstacle towards enjoying a story set in a small town.
I've heard this series gets stronger though, so I've put the next book on hold at my library and will carry on with it!