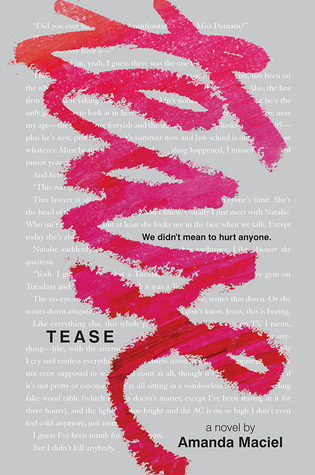 Tease
By Amanda Maciel Source
Received from the publisher via Edelweiss
Published by
Balzer & Bray
on April 29, 2014
Received from the publisher via Edelweiss in exchange for an honest review. This does not affect my opinion of the book or the content of my review.
Rating:

Cover image and summary from Goodreads:

From debut author Amanda Maciel comes a provocative and unforgettable novel, inspired by real-life incidents, about a teenage girl who faces criminal charges for bullying after a classmate commits suicide.

Emma Putnam is dead, and it's all Sara Wharton's fault. At least, that's what everyone seems to think. Sara, along with her best friend and three other classmates, has been criminally charged for the bullying and harassment that led to Emma's shocking suicide. Now Sara is the one who's ostracized, already guilty according to her peers, the community, and the media. In the summer before her senior year, in between meetings with lawyers and a court-recommended therapist, Sara is forced to reflect on the events that brought her to this moment—and ultimately consider her own role in an undeniable tragedy. And she'll have to find a way to move forward, even when it feels like her own life is over.

With its powerful narrative, unconventional point of view, and strong anti-bullying theme, this coming-of-age story offers smart, insightful, and nuanced views on high school society, toxic friendships, and family relationships.
This was an intriguing, timely, sometimes frustrating read. From the beginning, we know that our main character, Sara, is a bit of a mean girl. She and her friends are being charged after Emma Putnam killed herself, with many people thinking Sara and her friends were bullies who drove Emma to suicide.
The timeline of the story jumps between the present, with Sara preparing for court, seeing a therapist, and dealing with the media exposure and public opinion, and the past, showing us how Sara and her queen bee BFF Brielle treated Emma.
Part of what bothered me initially was that Sara seemed to feel that she had no responsibility for Emma's death and that being mean to Emma the way she'd been was just part of high school. There was also a lot of talk about Emma being a slut and what that seemed to mean to Sara and Brielle. I was disheartened that so much of Sara's behaviour was about her boyfriend Dylan, and that a lot of her self worth and identity seemed to come from her relationships with Brielle and Dylan.
Brielle and Sara seemed to have a pretty toxic friendship, which seems standard for the 'mean girl' books I read and usually love. The queen bee is not someone to make angry, and even her friends are constantly trying to make sure they stay on her good side. Sara and Brielle were no different. What I didn't get a sense of here was what is was that made Brielle and Sara friends in the first place. What was the basis of their friendship?
I was a bit disappointed initially that there was a romantic interest in this book too, in the 'present' timeline. I figured that since so much of what drove Sara's behaviour towards Emma was linked to insecurities about her boyfriend, her growth would be best if it was not connected to a guy, but the love interest was definitely not the type of guy Sara would go after while hanging around with Brielle. I actually ended up seeing that the blossoming romance allowed Sara to figure out who she was without Brielle, and to act more like herself, and I thought it was good for her.
This is a book that makes me so happy there was nothing like Facebook when I was in high school! The cyber bullying that goes in in this book is so relentless and I'm definitely willing to believe that things like that go on today. There have been similar stories to Emma's in the Canadian news and I'm sure there are more stories like this all over. It's sad and in this book at least it seems to be driven by insecurity, and boys, and it seems like school administrators and parents are either clueless or unable (or unwilling) to do anything about it.
I wish this book had gone deeper into who Emma was. For all the talk about her throughout the book, I felt like I never knew anything about her. I found myself wondering more about Emma as things went on and wish the reader got more of a sense of who she was. She was a mystery, and I wish that Sara had been more interested in learning about Emma after her death.
I read this book fairly quickly, and thought it was well-written and well-paced. I just didn't feel pulled in to the story as much as I wanted, and Sara's attitude in the beginning contributed to that. I think it addresses an important subject without being preachy or unrealistic, and recommend it.