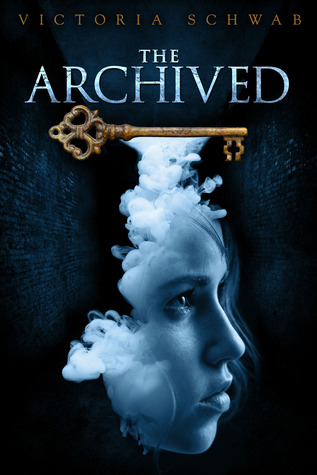 The Archived
By Victoria Schwab Series:
The Archived #1
Source
Purchased
Published by
Hyperion
on January 22, 2013
Rating:

Cover image and summary from Goodreads:

Imagine a place where the dead rest on shelves like books.


Each body has a story to tell, a life seen in pictures only Librarians can read. The dead are called Histories, and the vast realm in which they rest is the Archive.

Da first brought Mackenzie Bishop here four years ago, when she was twelve years old, frightened but determined to prove herself. Now Da is dead, and Mac has grown into what he once was: a ruthless Keeper, tasked with stopping often violent Histories from waking up and getting out. Because of her job, she lies to the people she loves, and she knows fear for what it is: a useful tool for staying alive.

Being a Keeper isn't just dangerous—it's a constant reminder of those Mac has lost, Da's death was hard enough, but now that her little brother is gone too, Mac starts to wonder about the boundary between living and dying, sleeping and waking. In the Archive, the dead must never be disturbed. And yet, someone is deliberately altering Histories, erasing essential chapters. Unless Mac can piece together what remains, the Archive itself may crumble and fall.

In this haunting, richly imagined novel, Victoria Schwab reveals the thin lines between past and present, love and pain, trust and deceit, unbearable loss and hard-won redemption.
The Archived is a book I've been meaning to read for ages, so I was really excited when it was picked by my book club. I'd owned the book for at least a year by that point, so I was happy to be able to read something that I already owned!
I love the concept of this book: the dead (called Histories) rest on shelves just like books in a library, in a place known as the Archive. There are even Librarians who maintain it all. Mac is a Keeper – when Histories wake up, she has to send them back before they can get into our world. So cool!
I loved the world of the Archive. I want to learn more about it! Thank goodness there's a sequel (The Unbound) already out, with a third book on the way.
I also really liked Mac and Wesley, who she meets in her new building. He was great! Fun, funny, and there was definitely some romantic tension between the two of them!
There was a lot of stuff that I really liked, particularly the way the story dealt with Mac and the loss of her younger brother, and how dangerous it was for her to want to visit him in the Archive. Could she/would she/should she wake him up, if she was allowed to see him? What would happen? It was really sad and fascinating at the same time.
One of the sore spots for me, though, was that Mac had to lie soooooooo much as a Keeper, especially to her parents, and it stopped being believable to me after a while that her parents would be so oblivious and buy all of her lies. But perhaps that's one of those things where I have to suspend my disbelief and just go with it, for the story's sake.
Overall, this was a great book and I wish I'd read it sooner! But now I need to get my hands on the sequel and find out what happens next!