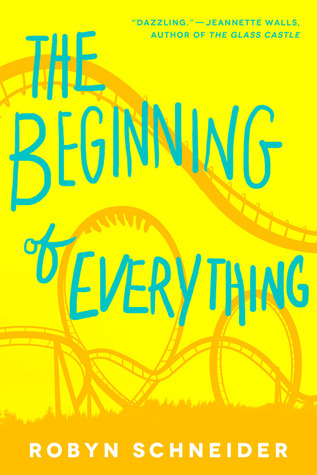 The Beginning of Everything
By Robyn Schneider Source
Purchased
Published by
Katherine Tegen Books
on August 27, 2013
Rating:

Cover image and summary from Goodreads:

Golden boy Ezra Faulkner believes everyone has a tragedy waiting for them—a single encounter after which everything that really matters will happen. His particular tragedy waited until he was primed to lose it all: in one spectacular night, a reckless driver shatters Ezra's knee, his athletic career, and his social life.

No longer a front-runner for Homecoming King, Ezra finds himself at the table of misfits, where he encounters new girl Cassidy Thorpe. Cassidy is unlike anyone Ezra's ever met, achingly effortless, fiercely intelligent, and determined to bring Ezra along on her endless adventures.

But as Ezra dives into his new studies, new friendships, and new love, he learns that some people, like books, are easy to misread. And now he must consider: if one's singular tragedy has already hit and everything after it has mattered quite a bit, what happens when more misfortune strikes?

Robyn Schneider's The Beginning of Everything is a lyrical, witty, and heart-wrenching novel about how difficult it is to play the part that people expect, and how new beginnings can stem from abrupt and tragic endings.
This was my book club's pick for the month of October, and what a great book! I was immediately drawn in to Ezra's world and loved the character's narration. Ezra was funny, and reading his observations about his group of friends – the popular crowd – made me laugh at times. I really liked Ezra's voice. I don't think I read many stories told in a male POV, and that added another layer to the story for me.
The real standout here  was Toby, Ezra's childhood best friend from whom he has drifted away (everyone in book club agreed that Toby was awesome!). While Ezra became an athlete and one of the cool kids, Toby's social life took the opposite path, hanging out with kids the others saw as nerds or uncool. But after Ezra's car accident, which effectively put an end to his tennis career and altered his social life, the two of them reconnected.
As for the love interest, Cassidy, I have mixed feelings. As Rachel said, I got a bit of a manic pixie dream girl vibe, which I think Cassidy was purposely trying to put out there, as a sort of camouflage or protection. As much as I sympathized with Cassidy, particularly once I learned more about her, I was frequently annoyed with her behaviour. I would have loved this book just as much, maybe even more, had it just been about Ezra and Toby.
The end of this book was really bittersweet, but I liked it. It felt real and it fit with the rest of the story, and I appreciate that Schneider didn't go for an obvious, 'easy' predictable ending.
This was a really enjoyable book with an excellent combination of humour and heart. I definitely recommend it!