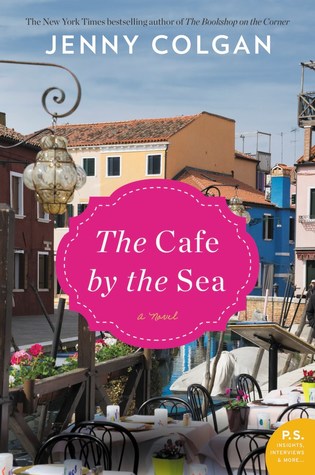 The Cafe By the Sea
By Jenny Colgan Series:
Summer Seaside Kitchen #1
Source
Purchased
Published by
William Morrow Paperbacks
on June 27, 2017
Rating:

Years ago, Flora fled the quiet Scottish island where she grew up -- and she hasn't looked back. What would she have done on Mure? It's a place where everyone has known her all her life, where no one will let her forget the past. In bright, bustling London, she can be anonymous, ambitious... and hopelessly in love with her boss.

But when fate brings Flora back to the island, she's suddenly swept once more into life with her brothers -- all strapping, loud, and seemingly incapable of basic housework -- and her father. Yet even amid the chaos of their reunion, Flora discovers a passion for cooking -- and find herself restoring dusty little pink-fronted shop on the harbour: a café by the sea.

But with the seasons changing, Flora must come to terms with past mistakes -- and work out exactly where her future lies...
I loved Jenny Colgan's The Bookshop on the Corner, so I wanted to check out some of her other books. This one sounded cute, and I was really drawn to it because the main character moves from a big city to a tiny island village.
I loved this premise, and I loved reading about Flora adjusting back to village life. I also loved the baking! This book made me so hungry.
The family dynamics were interesting too: Flora's father and brothers had stayed on the farm while she was off in London, and coming back brought up some old tensions.
Really, the only thing that I didn't like in this book was the outcome of the little love triangle that was going on. I thought that it was going to go one way, and was really surprised (and disappointed) when it went the other way.
There's a second book in the series (but don't read the synopsis or else you'll be spoiled re: the love triangle!), and I definitely want to read it. I have enjoyed both Jenny Colgan books that I've read, and I want to read more!