By Heather Barbieri
Review copy provided by the publisher in conjunction with TLC Book Tours 
Publication date: May 15, 2012
My Rating: 3.5 / 5
I liked this book. It was a nice change of pace from my recent reads. Here is the Goodreads summary:
Married to the youngest attorney general in Massachusetts state history, Nora Cunningham is a picture-perfect political wife and a doting mother. But her carefully constructed life falls to pieces when she, along with the rest of the world, learns of the infidelity of her husband, Malcolm.

Humiliated and hounded by the press, Nora packs up her daughters–Annie, seven; and Ella, twelve–and takes refuge on Burke's Island, a craggy spit of land off the coast of Maine. Settled by Irish immigrants, the island is a place where superstition and magic are carried on the ocean winds, and wishes and dreams wash ashore with the changing tides.

Nora spent her first five years on the island but has not been back to the remote community for decades–not since that long ago summer when her mother disappeared at sea. One night while sitting alone on Glass Beach below the cottage where she spent her childhood, Nora succumbs to grief, her tears flowing into the ocean. Days later she finds an enigmatic fisherman named Owen Kavanagh shipwrecked on the rocks nearby. Is he, as her aunt's friend Polly suggests, a selkie–a mythical being of island legend–summoned by her heartbreak, or simply someone who, like Nora, is trying to find his way in the wake of his own personal struggles?

Just as she begins to regain her balance, her daughters embark on a reckless odyssey of their own–a journey that will force Nora to find the courage to chart her own course and finally face the truth about her marriage, her mother, and her long-buried past.
The writing in this book was really great, and this was a nice, leisurely book, perfect for summer reading.
Nora was a sympathetic character, easy to like. I wanted her to figure out what to do about her unfaithful husband, who seemed to still want to come in and out of her life on his own time, and to put the pieces of her life back together. I loved Nora's aunt Maire, who she hasn't seen since she was a child, and her friend Polly. Polly was a hoot! They were excellent tour guides of the island for Nora and her daughters, and those relationships were really touching.
Annie and Ella were interesting, particularly Ella's relationship with Nora. Ella seemed to blame Nora for the troubles with her husband, and Nora was trying to shield the girls from the truth. It made for a tumultuous relationship, and I really felt for Nora, who I thought was being unfairly blamed for things beyond her control. As for Annie, I loved her imagination! She was great.
There is some magical realism at work in this book, and I liked the way it was done. It wasn't too over the top, and blended in very nicely with the rest of the book.
The subplot about Nora's mother, Maeve, and what happened to her was really interesting and I wish I had learned more about it! I was expecting Nora to start looking into her mother's life much sooner than she did, but that was the most intriguing part of the book for me.
Owen's appearance  complicated matters for Nora. She was drawn to him, but struggled with her feelings because of the state of her relationship with her husband. I liked Owen – he was kind, and got along with Maire which endeared him to me.
I must admit that the ending confused me. There was a lot going on and I felt that I needed a bit more of an explanation as far as certain aspects go, but I did enjoy the story. I'm going to be checking out Heather Barbieri's other books!
About the author: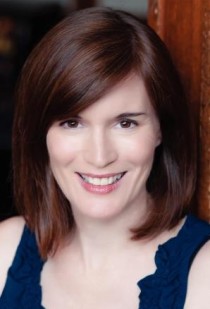 Heather Barbieri has written two previous novels, The Lacemakers of Glenmara and Snow in July. You can learn more on her website and Facebook page.
You can also check out the full tour:
Wednesday, May 8th: A Chick Who Reads
Thursday, May 9th: I'm Booking It
Monday, May 13th: Diary of a Stay at Home Mom
Tuesday, May 14th: The Infinite Shelf
Monday, May 20th: Stephany Writes
Monday, May 20th: Traveling With T
Tuesday, May 21st: …the bookworm…
Wednesday, May 22nd: Sharon's Garden of Book Reviews
Thursday, May 23rd: Tiffany's Bookshelf
Monday, May 27th: Joyfully Retired
Tuesday, May 28th: Pingwing's Bookshelf
TBD: Proud Book Nerd