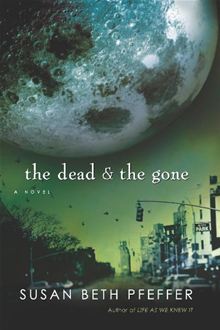 The Dead and the Gone
By Susan Beth Pfeffer Series:
Last Survivors #2
Source
Purchased
Published by
HMH Books for Young Readers
on June 1, 2008
Rating:

Susan Beth Pfeffer's Life as We Knew It enthralled and devastated readers with its brutal but hopeful look at an apocalyptic event--an asteroid hitting the moon, setting off a tailspin of horrific climate changes. Now this harrowing companion novel examines the same events as they unfold in New York City, revealed through the eyes of seventeen-year-old Puerto Rican Alex Morales. When Alex's parents disappear in the aftermath of tidal waves, he must care for his two younger sisters, even as Manhattan becomes a deadly wasteland, and food and aid dwindle.

With haunting themes of family, faith, personal change, and courage, this powerful new novel explores how a young man takes on unimaginable responsibilities.
I read Life As We Knew It, the previous book in this trilogy, back in March and I loved it. This is the second book in the series.
This story takes place during the same timeline as Life As We Knew It, except it follows Alex Morales and his family in New York City, rather than Miranda and her family.
Alex is at work at the pizza parlour when the asteroid hits the moon, but doesn't realize the full effects until later, when his mother fails to return home from her job at the hospital. His older brother, Carlos, is in the military but his fate is uncertain, as is that of Alex's father, who was attending a relative's funeral in Puerto Rico.
And so it's up to Alex to look after his two younger sisters: Bri, who is devout and who firmly believes that their parents are still alive somewhere, trying to get home; and Julie, whose attitude and emotional behaviour drives Alex crazy. He tries to keep things normal at first, insisting that he and the girls continue to attend their Catholic schools, and he also tries to shelter them from the increasingly harsh truths. For example, he buses out to Yankee Stadium, where some of the recovered dead bodies are displayed for people to see if they can identify any of them. Alex goes to see if their mother is there, but doesn't tell his sisters about it.
As in Life As We Knew It, the environmental effects of the asteroid are severe: flooding, volcanic ash blocking out the sun, and freezing temperatures during summer months. Things just keep getting worse: food becomes scarce and valuable, dead bodies pile up in the streets of the city, and disease begins to spread.
This is one those stories that I couldn't even try to predict or anticipate what would happen next (except that I figured that whatever it was, it would probably be bad!). I was just along for the ride as Alex tried to keep his family together. I liked that I didn't know what was going to happen, even though I'd read the first book in the series, and I think part of that is due to the change in setting. While the main event that is the catalyst for the story – the asteroid colliding with the moon – remains the same as in Life As We Knew It, changing the setting from a rural town to New York City significantly altered the events that our new protagonist faced. Although the environmental effects and dangers like food scarcity were the same in each story and setting, there were different challenges and means of survival faced by Miranda and Alex.
I also liked the change of characters. I can't really think of any other series I've read where the sequel had completely different characters than the first book. In fact, both books could definitely stand alone, or could be read out of order (although I think you'd really be missing out if you didn't read Life As We Knew It as well). It was the contrast, though, between Alex and the previous protagonist, Miranda, that kept things feeling fresh. For example, Alex and his sisters are quite devout, attending Catholic school and even making sure to trek to church for Mass as things get worse, and their struggles with their faith during a time of crisis plays a large part in the story. In contrast, I don't recall that there was much mention of God or church or religion among Miranda's family in the previous book. Also, Miranda and her brothers had their mother to look after them. Alex, at just 17, became responsible for the safety of his younger sisters.
Although Alex faced significant challenges, including the deaths of some of those close to him, I thought that the ideas of hope and faith were still quite present, especially in his sister, Bri. In a story where the entire planet and everyone living on it basically seem to be dying, it can be so easy to make everything bleak and depressing, but I appreciated that Akex and his sisters found things to keep them going.
Overall, I enjoyed this book just as much as its predecessor, and definitely recommend it. Now on to the final book in the series, This World We Live In!