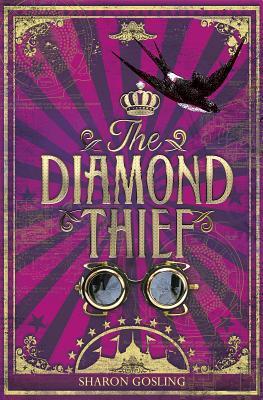 The Diamond Thief
By Sharon Gosling Source
Received from the publisher via Netgalley
Published by
Capstone Press
on October 1, 2014
Received from the publisher via Netgalley in exchange for an honest review. This does not affect my opinion of the book or the content of my review.
Rating:

Summary and cover image from Goodreads:

No one performs on the circus trapeze like 16-year-old Rémy Brunel. But Rémy also leads another life, prowling through the backstreets of Victorian London as a jewel thief. When she is forced to steal one of the world's most valuable diamonds, she uncovers a world of treachery and fiendish plots.

Meanwhile, young detective Thaddeus Rec is determined to find the jewel and clear his name. Will Thaddeus manage to rescue the jewel? Or is it really Rémy that he needs to save?
This was a fun, quick read and an entertaining story, but I don't have much to say about this book.
I liked the setting, and the writing was easy to read, but the book didn't engage me on a deeper level. I didn't feel any connection to the characters, nor did I feel emotionally invested in their fates or the outcome. The romance was sweet, but Remy and Thaddeus knew each other for about a week before the 'L' word was used, and as much as I wish that wasn't a thing that makes me roll me eyes and that takes me out of the story temporarily, it is.
The book was entertaining but not engrossing; it was pleasant but not the kind of book that had me thinking about it and the characters after I'd put it down.
However, if you like historical fiction, and are looking for some lighter fare, this book may fit the bill.