The Elite
By Kiera Cass
Source: Library
My Rating: 3 / 5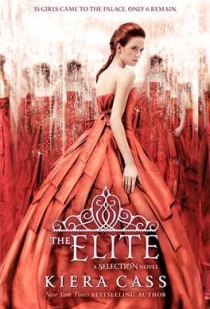 This is the sequel to The Selection, which I read last year. I love the covers of these books!!
Here is the Goodreads summary:
Thirty-five girls came to the palace to compete in the Selection. All but six have been sent home. And only one will get to marry Prince Maxon and be crowned princess of Illea.

America still isn't sure where her heart lies. When she's with Maxon, she's swept up in their new and breathless romance, and can't dream of being with anyone else. But whenever she sees Aspen standing guard around the palace, and is overcome with memories of the life they planned to share. With the group narrowed down to the Elite, the other girls are even more determined to win Maxon over—and time is running out for America to decide.

Just when America is sure she's made her choice, a devastating loss makes her question everything again. And while she's struggling to imagine her future, the violent rebels that are determined to overthrow the monarchy are growing stronger and their plans could destroy her chance at any kind of happy ending.
I enjoyed The Selection when I read it, and while I was looking forward to this sequel, I was also hoping it would improve on some things that didn't quite work for me. For the most part, it did, and I am really looking forward to the next book.
Part of what I liked more here was that there were only six girls left in the Selection, which made it a lot easier to distinguish the girls from each other throughout the story.
I also enjoyed getting to know Maxon more. I think we got a better look into his life and the difficulties he faces with his father, the pressure to choose between the girls, and the dangers they face from the rebels. Maxon was a much more sympathetic character for me in this book. I also loved the scenes with America's maids, and that her family was able to come and visit her. It was great to see them reunited, even briefly.
I got more of the back story of Illea that I had been looking for too. I really liked getting a sense of the history of America's world and seeing her realize that the history she believes to be true may be a lie.
However, America still frustrates me. She makes a lot of assumptions throughout the book about other people and their intentions, and mostly assumes incorrectly. She also is so undecided throughout the book of her feelings for Aspen and Maxon, and whether or not she wants to be married to Maxon and be a princess, which irritated me.
I was also occasionally creeped out by the fact that Maxon was making time with all of these girls, kissing them and dating them and all the while telling America how important she was to him. I know that the competition among the girls is like the backbone of the series, but if I stopped to think about it, it was a little icky.
Overall, though, this was fun, entertaining, and a great read for a rainy weekend. I'm really looking forward to the final entry in the series! If you liked The Selection, I think you'll enjoy its sequel.
Related Posts