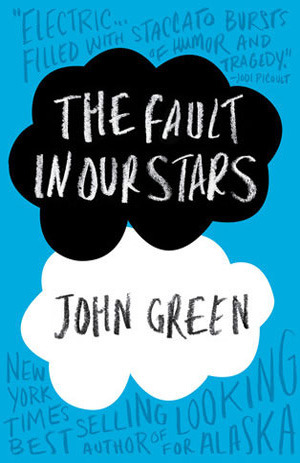 The Fault in Our Stars
By John Green Source
Purchased
Published by
Dutton Books
on January 10, 2012
Rating:

Summary and cover image from Goodreads:

Despite the tumor-shrinking medical miracle that has bought her a few years, Hazel has never been anything but terminal, her final chapter inscribed upon diagnosis. But when a gorgeous plot twist named Augustus Waters suddenly appears at Cancer Kid Support Group, Hazel's story is about to be completely rewritten.
Oh my gosh. I don't even know what I can say about this book that hasn't already been said (I must be the last person to read this!) but I'll just blurb all my thoughts out!
I read this right before leaving for BEA, because I'd made plans to go see the movie with friends (separate post on that to come) and knew that I'd have to read the book first!
I tried not to go into this book with any expectations, but with the movie coming so soon and because so many people that I know have loved this book, it was practically impossible not to have high hopes for it! I'm pleased to say that I loved it. This book is SO GOOD.
The characters – Hazel, Gus, Isaac (LOVE Isaac) are wonderful. It seems tragic because they're ill, but they are such intelligent, funny, caring people and you see that they are much more than any illness that they have. Cancer does not define them.
This book is wonderfully written. The characters jump off the page, and while I didn't shed tears (I came very close to it!), the book was incredibly moving. I fully expect the movie to have me bawling my eyes out!
I don't know what more I can say. This book is funny, sad, poignant, moving, and so very worth your time. Please read this!