By Sara Shepard
Source: Library
My Rating: 3 / 5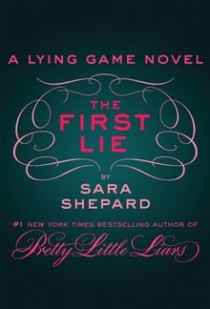 I don't normally read novellas – for some reason, I'm not a big fan – but I do like this series, so I thought it would be worth a try. SPOILER ALERT for the main series – you've been warned!
Here is the Kobo store's summary:
Featuring Sutton Mercer before her tragic death, this stand-alone digital original novella from #1 New York Times bestselling author Sara Shepard is an exciting, must-read companion to the Lying Game series.

Back when she was alive, Sutton kept a million secrets. But how she got together with Thayer is her juiciest one of all. . . .

It's the summer before junior year and Sutton Mercer and her friends rule Hollier High. Then Thayer Vega returns home from soccer camp. In two short months he's gone from being her best friend's scrawny younger brother to a hot soccer god with a major ego—and a bone to pick with the Lying Game girls.

To bring him back down to earth, Sutton's friends convince her to string Thayer along so she can publicly reject him. But as she gets to know the real Thayer, Sutton starts to wonder: Is flirting with Thayer still just a game to her? Or is the queen of the Lying Game lying . . . to herself?
This book is set before the events of the rest of the Lying Game series, but you should read the main series first.
What I really liked about this was getting to see a whole story – even if it's a short one – entirely from Sutton's perspective. So much of the Lying Game series is about Sutton and her actions being dealt with by Emma following Sutton's murder, and I'm always curious to learn more about her. This book did a good job of demonstrating that some of Sutton's actions are fueled by her insecurity about being second best in the eyes of her adopted family, or abandoned by her birth mother.
The book also shows us the beginning of her relationship with Thayer, who I liked learning more about, and sheds some light on other pranks pulled by the Lying Game club: Sutton, Charlotte, and Madeline. It was really neat to see the way Sutton interacted with, or even thought about, people like Laurel, the Twitter Twins, Ethan, and Nisha, compared to the way Emma-as-Sutton does.
Overall, this was a really quick read that was a fun look inside Sutton's life, but it didn't seem to hint at the mystery of who killed her and why, which was a bit of a bummer. If you're a fan of the whole series, I would recommend picking this up.
Canadian book lover and blogger. Fan of Supernatural, cookies, Nintendo, unicorns, nail polish, Diet Coke, and curling up on the couch with a good book.