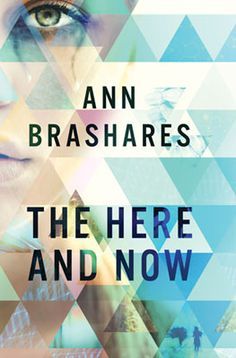 The Here and Now
By Ann Brashares Source
Received from the publisher via Netgalley
Published by
Delacorte Press
on April 8, 2014
Received from the publisher via Netgalley in exchange for an honest review. This does not affect my opinion of the book or the content of my review.
Rating:

From Goodreads:

Follow the rules. Remember what happened. Never fall in love.

Thrilling, exhilarating, haunting, and heartbreaking, The Here and Now is a twenty-first-century take on an impossible romance. Ann Brashares' first novel for teens since The Sisterhood of the Traveling Pants is about a girl from the future who might be able to save the world . . . if she lets go of the one thing she's found to hold on to.

Meet seventeen-year-old Prenna James, who immigrated to New York when she was twelve. Except Prenna didn't come from a different country. She came from a different time—a future where a mosquito-borne illness has mutated into a pandemic, killing millions and leaving the world in ruins.

Prenna and the others who escaped to the present day must follow a strict set of rules: never reveal where they're from, never interfere with history, and never, ever be intimate with anyone outside their community. Prenna does as she's told, believing she can help prevent the plague that will one day ravage the earth. But everything changes when she falls for Ethan Jarves.
I love time travel stories and this was one my most anticipated books of 2014. I'm so happy to say that I loved it!
I was fascinated by the way that Prenna and her fellow travellers lived, and the rules that they followed. It was a strict way to live and was definitely more geared towards survival than happiness. However, as I learned more about the state of the world from Prenna's time, and the losses that she had suffered, I came to understand why they all believed in and followed the rules. The future that Prenna came from was terrible, but seemed so plausible to me that reading about it gave me anxiety. The way that everything fell apart didn't seem far-fetched, which was frightening.
Things began to get complicated for Prenna when she confided in her friend Ethan. I love where the story went at this point, although I did find myself wishing that I had been able to read a bit more about Prenna's life before the action kicked in. The story took twists and turns, and Prenna learned some hard truths that made my heart go out to her. I found myself completely immersed in this book and didn't want to put it down. I had to know what was going to happen next!
I'm fairly certain this is a stand alone, but I would love to read another book with these characters and this setting. The ending was somewhat bittersweet, but I loved it. The writing was fantastic, the story was well-paced and exciting, and I loved Prenna and Ethan.
If you like science fiction and time travel stories, you must read this book!