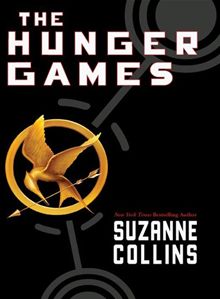 The Hunger Games
By Suzanne Collins Series:
The Hunger Games #1
Source
Purchased
Published by
Scholastic Press
on September 14, 2008
Rating:

The nation of Panem, formed from a post-apocalyptic North America, is a country that consists of a wealthy Capitol region surrounded by 12 poorer districts. Early in its history, a rebellion led by a 13th district against the Capitol resulted in its destruction and the creation of an annual televised event known as the Hunger Games. In punishment, and as a reminder of the power and grace of the Capitol, each district must yield one boy and one girl between the ages of 12 and 18 through a lottery system to participate in the games. The 'tributes' are chosen during the annual Reaping and are forced to fight to the death, leaving only one survivor to claim victory.

When 16-year-old Katniss's young sister, Prim, is selected as District 12's female representative, Katniss volunteers to take her place. She and her male counterpart Peeta, are pitted against bigger, stronger representatives, some of whom have trained for this their whole lives. , she sees it as a death sentence. But Katniss has been close to death before. For her, survival is second nature.
I had heard a lot of good things about this book, but avoided reading any particulars about the plot. It had been on my TBR list for a very long time but somehow I never got around to reading it. I'm so glad that I finally read it!
This book was so good! Once I started reading it, I couldn't put it down. I even got up early to read it before work. I was hooked within the first few pages, which is always a good sign. I liked reading about Katniss's life in her District and how the Games work. Once the Games began, things were so suspenseful that I couldn't do anything but read this book!
The characters were great. Katniss was a really likable character. She was strong and independent, and I thought her cynicism was understandable, given the tough life she'd had so far. I also liked Peeta, the boy representing her district in the Games. Her relationship with Peeta becomes more complicated as the story progresses and I really wanted to see where things went.
I was really rooting for Katniss to survive the Games, and even though I was certain that somehow she would, I was still worried for her as conditions during the Games worsened and survival became more and more difficult.
I don't want to give away any plot details, because the story is really good, so if you like YA novels and/or post-apocalyptic books, I strongly recommend this. On second thought, even if you don't like those kind of books, read this anyway. It's that good! And now on to the sequel, Catching Fire.