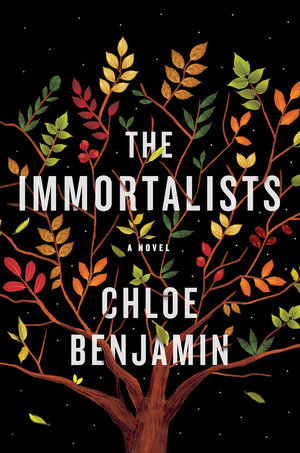 The Immortalists
By Chloe Benjamin Source
Received from the publisher
Published by
G.P. Putnam's Sons
on January 9, 2018
Received from the publisher in exchange for an honest review. This does not affect my opinion of the book or the content of my review.
Rating:

Cover image and synopsis from Goodreads:

If you were told the date of your death, how would it shape your present?

It's 1969 in New York City's Lower East Side, and word has spread of the arrival of a mystical woman, a traveling psychic who claims to be able to tell anyone the day they will die. The Gold children—four adolescents on the cusp of self-awareness—sneak out to hear their fortunes.

Their prophecies inform their next five decades. Golden-boy Simon escapes to the West Coast, searching for love in '80s San Francisco; dreamy Klara becomes a Las Vegas magician, obsessed with blurring reality and fantasy; eldest son Daniel seeks security as an army doctor post-9/11, hoping to control fate; and bookish Varya throws herself into longevity research, where she tests the boundary between science and immortality.
I was so intrigued by this book. I like sibling stories and the premise, and I'd heard good things about it.
This was a really good book, but it was also really heavy. I had to pause and read something else for a little while. This book also made me feel really anxious at times (I have a lot of anxiety around loss and death and worrying and wasting time and this book touched on all of that).
I really liked that each chapter followed a different Gold sibling, showing us his/her life. It was like a book of short stories in a way.
I was fascinated by the way each sibling lived his/her life in the wake of the woman's predictions. In some cases, it was heartbreaking; in others, frustrating. Of all of the siblings, I think Varya's chapter was the most affecting for me.
While The Immortalists was so heavy and it doesn't seem right to say I enjoyed it, I thought that it was a fascinating, moving book. Recommended.
Thank you to Penguin Random House Canada for this finished copy! To pick up a copy for yourself: