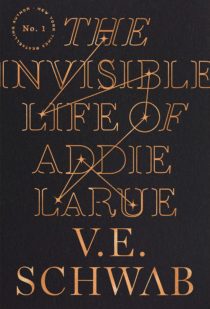 The Invisible Life of Addie LaRue
Source
Received from the publisher
Published by
Tor Books
on October 6, 2020
Received from the publisher in exchange for an honest review. This does not affect my opinion of the book or the content of my review.
Rating:

France, 1714: in a moment of desperation, a young woman makes a Faustian bargain to live forever and is cursed to be forgotten by everyone she meets.

Thus begins the extraordinary life of Addie LaRue, and a dazzling adventure that will play out across centuries and continents, across history and art, as a young woman learns how far she will go to leave her mark on the world.

But everything changes when, after nearly 300 years, Addie stumbles across a young man in a hidden bookstore and he remembers her name.
This was probably my most-anticipated book of the year! Victoria Schwab is my favourite author, and I preordered this book as soon as I possibly could. I was therefore beyond thrilled to receive an e-ARC from Raincoast (thank you!!), and I couldn't wait to settle in and read.
This is such an intriguing story, and from what Victoria has revealed about it over the years, I had really high expectations that I'm happy to say were exceeded!! This is a beautifully written and moving story about Addie, who wants a bigger life than what everyone else could see for her, and in a difficult moment, makes a bargain that she can't take back.
While it was heartbreaking to read about Addie's family no longer remembering her, and her inability to form relationships and friendships with people because of the deal she made, I loved reading about her journey through the centuries, the things she saw and the people she met, the experiences she had, and the way she learned to leave a mark through others.
I took my time reading this book because I wanted to really luxuriate in the writing, and because it was such a slow burn that I didn't want to rush through it. 
I've been thinking about Addie's story since I finished reading, and I don't have the words to adequately describe my love for this book and what I felt when I finished reading. I enjoyed it all, from start to finish (I particularly loved the ending), and learning that the book will be adapted as a film (written by Victoria!) was some of the best news I've heard all year!
The Invisible Life of Addie LaRue is absolutely one of my favourite reads of the year, and I cannot recommend this amazing book enough!