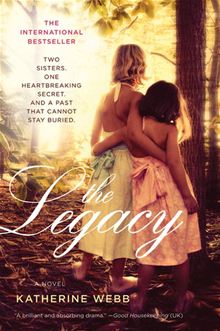 The Legacy
By Katherine Webb Source
Purchased
Published by
William Morrow
on August 30, 2011
Rating:

When they were children, Erica Calcott and her sister, Beth, spent their summer holidays at Storton Manor. Now, following the death of their grandmother, they have returned to the grand, imposing house in Wiltshire, England. Unable to stem the tide of childhood memories that arise as she sorts through her grandmother's belongings, Erica thinks back to the summer her cousin Henry vanished mysteriously from the estate, an event that tore their family to pieces. It is time, she believes, to lay the past to rest, bring her sister some peace, and finally solve the mystery of her cousin's disappearance.

But sifting through remnants of a bygone time is bringing a secret family history to light—one that stretches back over a century, to a beautiful society heiress in Oklahoma, a haunting, savage land across the ocean. And as past and present converge, Erica and Beth must come to terms with two shocking acts of betrayal . . . and the heartbreaking legacy they left behind.
I was drawn to this one because the description reminded me of The Distant Hours, which I read and loved.
I liked the way this book's chapters alternated between Erica and Beth in present-day, and their great-grandmother Caroline at the turn of the 20th century. I was equally interested in both stories: Erica, staying at her recently-deceased grandmother's grand house, Storton Manor, with her older, ill sister, Beth; and Caroline's marriage to a young man that uprooted her from her society life in England to a ranch  in Oklahoma, where life is more difficult than she could have imagined.
Erica is determined to recall what happened to their cousin, Henry, who disappeared when she was eight, and Beth and the young boy they used to play with, Dinny, were 12. Beth and Dinny are vehemently opposed to Erica's search for the truth, which just makes her even more determined to get to the bottom of things. The situation is also complicated by Beth's depression, which Erica believes stems from whatever happened to cousin Henry years ago. It's been years since she and Beth were at Storton Manor, and when they run into Dinny after all this time, it's awkward, but Erica thnks they are still the same people that they were as children and wants them to spend time together the way they used to. Beth, on the other hand, insists that too much time has passed and they are different people than they were all those years ago when they played as children.
Meanwhile, Caroline must attempt to adjust to life in Oklahoma on her new husband's ranch. There is no indoor plumbing, no servants, and nothing out there but land and sky. Caroline is unnerved by the presence of Native Americans, particularly Joe and Magpie, who help out at the ranch. Magpie, seeing Caroline's struggles to adjust to life on the ranch, begins to help out around the house with cooking and cleaning. While Caroline develops feelings of affection for Magpie, she is wary at the same time, and grows jealous of Magpie's ability to seemingly do everything that Caroline cannot.
There are two major secrets revealed by the end of this book. The story was a great mix of present-day and historical fiction, and the mysteries are built up and then unravelled very well.
I didn't quite connect with the characters, however. I liked Erica, but I couldn't quite understand her ability to give up her life back in England to stay in Storton Manor for so long. I  also couldn't quite understand her desire to reconnect with Dinny after so much time had passed. She came across as a bit immature to me at times. Dinny, Beth, and Beth's young son Ed, who comes to stay for Christmas at Storton Manor with Beth and Erica, were interesting characters, but I wish I had learned more about them – particularly Dinny and Beth, given their importance to the plot. Caroline was also an interesting character, and I sympathized with her, up to a point, but there were other characters in her chapters about whom I would have liked to learn more, like Hutch and Magpie.
At times, I felt that the plot dragged and I would put the book down for days at a time. This could be due to other things, like some video games I've been playing lately, but there were times that I did not feel compelled to pick the book up and get back into it.
Overall, this is a good book. Although I would have liked to connect more with the characters and the pacing seemed a bit uneven, the denouement is really well done and, for me, (mostly) made up for any shortcomings I may have identified here.