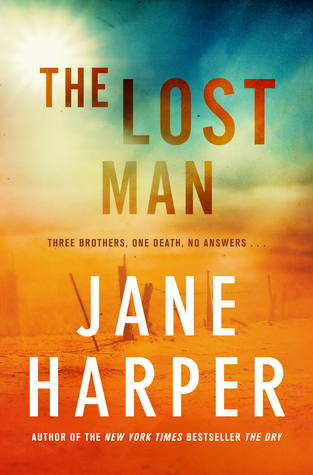 The Lost Man
By Jane Harper Source
Purchased
Published by
Flatiron Books
on February 5, 2019
Rating:

They are at the stockman's grave, a landmark so old, no one can remember who is buried there. But today, the scant shadow it casts was the last hope for their middle brother, Cameron. The Bright family's quiet existence is thrown into grief and anguish. Something had been troubling Cameron. Did he lose hope and walk to his death? Because if he didn't, the isolation of the outback leaves few suspects…

Dark, suspenseful, and deeply atmospheric, The Lost Man is the highly anticipated next book from the bestselling and award-winning Jane Harper, author of The Dry and Force of Nature.
I've read and enjoyed Jane Harper's Aaron Falk series, and when this book – which is a stand-alone novel – was on sale in the Kobo store one day, I snatched it up.
One of my favourite things about Jane Harper's books is the way the landscape informs the story and almost becomes another character. I loved reading about the dry, hot, dangerous Australian outback.
This was a really gripping story, and the mystery drew me in right away. I love reading mysteries partly because I like trying to solve a puzzle. And the mystery in this book was so tantalizing! A dead man, in the middle of nowhere, no signs of foul play, from from his abandoned car. I had to know what happened!
I think The Lost Man is my favourite Jane Harper novel. I couldn't put it down! Highly recommended!