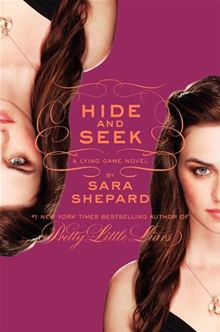 Hide and Seek
By Sara Shepard Series:
The Lying Game #4
Source
Purchased
Published by
HarperTeen
on July 31, 2012
Rating:

MY FRIENDS AND I USED TO PLAY LYING GAMES.

NOW MY TWIN SISTER IS LIVING ONE.

When I was alive, my family seemed picture-perfect. My adoptive parents adored me, and my little sister, Laurel, copied my every move. But now that my long-lost twin, Emma, has taken my place to solve my murder, we're both learning just how flawed my family really is.

Laurel is shooting Emma nasty looks and sneaking around with my ex-boyfriend. And it turns out my parents are keeping a huge secret - could it be the reason I'm dead?

How far would they go to keep the truth buried? No one can harm me now, but Emma is still fair game. And if she's not careful, she'll end up buried, too...
This is the fourth book in Sara Shepard's Lying Game series.
Well, there isn't much for me to say about this book that I haven't said in my reviews for the rest of this series. Like Shepard's Pretty Little Liars series, I love these books.  They are pure fun: a plot involving rich, bitchy high school girls, twins separated at birth, a murder mystery, mild romance, and a ghostly presence, all in one book? Yes please!
I will admit that I'm not as attached to the characters as I am in the Pretty Little Liars series, but perhaps it's because that is a longer-running series than this one. Also, while I really like Emma, sometimes I have trouble telling her friends apart, like Madeline and Charlotte for example. One is a dancer, one is a redhead – other than Emma, Sutton, and a couple of other people, I don't think the characters are very well-developed yet. I don't know enough about them. Of course, that could be because Emma doesn't really know them either – she has to continue to pretend she's Sutton and act like she knows these people who she's only just met – so I suppose I can overlook that for now, assuming that the reader will learn more about these other characters as Emma does.
I enjoyed the subplot involving a group of freshman girls trying to one-up Sutton/Emma's Lying Game club – it was a good reminder that the Lying Game was a big part of why someone may have been out to get Sutton. As in the previous books, just when Emma is convinced that she has a viable suspect for Sutton's murder, the person turns out to have been somewhere else the night Sutton was allegedly killed, and therefore exonerated. In this book, there are two suspects that Emma investigates, both of which I thought were pretty far-fetched, to be honest. However, on the plus side, there were some pretty big plot points revealed in this book, mainly towards the end, that really did surprise me, which I liked.
I continue to suspect that Sutton may not be dead. On the other hand, I've also been building up a possible suspect list of my own – people that Emma hasn't yet considered (cough*Ethan*cough – or perhaps an as-yet-unintroduced character, or some innocuous secondary character introduced early on in the first book and then forgotten). Of course, I'm sure I'll be wrong and will be surprised by whatever the truth turns out to be. But that's a large part of why I like this and the PLL series – it's just fun to watch the characters try to solve these mysteries.
The next book in the series comes out in February and you can bet I'll be reading it! I love this series and so of course I recommend this book.