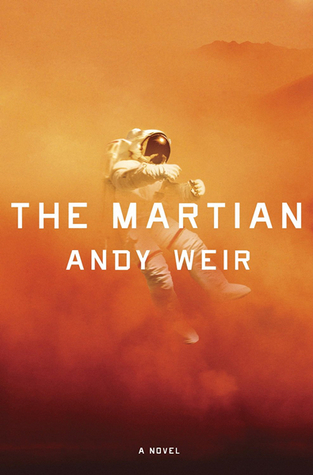 The Martian
By Andy Weir Source
Purchased
Published by
Crown
on February 11, 2014
Rating:

Cover image and summary from Goodreads:

Six days ago, astronaut Mark Watney became one of the first people to walk on Mars. Now, he's sure he'll be the first person to die there. After a dust storm nearly kills him & forces his crew to evacuate while thinking him dead, Mark finds himself stranded & completely alone with no way to even signal Earth that he's alive—& even if he could get word out, his supplies would be gone long before a rescue could arrive. Chances are, though, he won't have time to starve to death. The damaged machinery, unforgiving environment or plain-old "human error" are much more likely to kill him first. But Mark isn't ready to give up yet. Drawing on his ingenuity, his engineering skills—& a relentless, dogged refusal to quit—he steadfastly confronts one seemingly insurmountable obstacle after the next. Will his resourcefulness be enough to overcome the impossible odds against him?
I was really excited to read this book. I'd heard great things about it, and it seemed to combine two things I really like: science fiction and survival stories.
This book was, like, the ultimate survival story! Astronaut Mark Watney is stranded on Mars by his crew, who think he's dead. From there, it's one problem after another that he's got to solve in order to stay alive. I was on the edge of my seat reading this, because I had no idea what was going to happen next and how, of if, Mark would survive.
There's a lot of science in this book, and I personally had no idea while I was reading how accurate any of it was (not that it would interfere with my enjoyment at all), but it turns out that it's all quite accurate. I loved how science-y this book was because it made everything feel so much more real. It also demonstrated how intelligent Mark was. He had to improvise and adapt constantly, and do it all without losing hope or his sanity.
I found this to be a super moving book as well, which kind of surprised me. I was very close to tears by the end, to be honest.
I don't want to give anything away about the story. I read this not knowing any more than the synopsis, and I think that's how everyone should go into it. And this is going to be a movie starring Matt Damon, coming out this November apparently, so if you want to make sure you read it before the movie comes out, you should get a move on! I can't wait to see this on the big screen. I think this will make a great movie, and even though it takes place on Mars, I found that I could quite easily picture Mark's story as I read.
The Martian was an exciting, moving story that I've been recommending to everyone since I finished reading it. This is definitely a must-read, not only for hard sci-fi fans, but for anyone who likes some action, adventure, and stories about trying to survive against all odds.