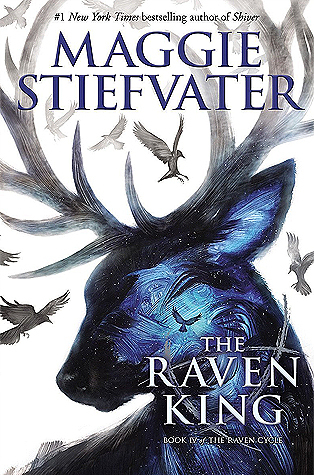 The Raven King
By Maggie Stiefvater Series:
The Raven Cycle #4
Source
Purchased
Published by
Scholastic Press
on April 26, 2016
Rating:

Cover image and summary from Goodreads:

The fourth and final installment in the spellbinding series from the irrepressible, #1 New York Times bestselling author Maggie Stiefvater.

All her life, Blue has been warned that she will cause her true love's death. She doesn't believe in true love and never thought this would be a problem, but as her life becomes caught up in the strange and sinister world of the Raven Boys, she's not so sure anymore.

In a starred review for Blue Lily, Lily Blue, Kirkus Reviews declared: "Expect this truly one-of-a-kind series to come to a thundering close."
Oh my gosh, where to begin?? The Raven Cycle is my favourite series, and I was mega excited to read this final installment. I was also nervous and sad, because finishing this book would mean it was all over.
I'm so happy to say that I loved this book! It was everything: moving, exciting, creepy, and it made me smile, laugh, and of course, it made me cry.
I definitely don't want to spoil the story for anyone, so I will not talk about the plot. But things happened that I would LOVE to discuss with other readers! Things that made me really happy, and some things that made me sad. I think this was a great way to wrap up the series.
While I'm beyond sad that my favourite series is finished, I've absolutely loved every book. And I love the characters: Blue, Adam, Gansey, Ronan, and Noah. I love them so much! Love love love!! I can't recommend this series enough!