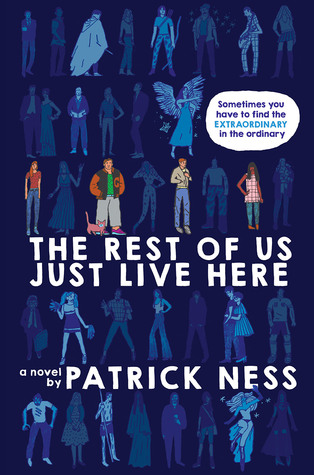 The Rest of Us Just Live Here
By Patrick Ness Source
Received from the publisher
Published by
HarperTeen
on October 6, 2015
Received from the publisher in exchange for an honest review. This does not affect my opinion of the book or the content of my review.
Rating:

Cover image and summary from Goodreads:

What if you aren't the Chosen One?

The one who's supposed to fight the zombies, or the soul-eating ghosts, or whatever the heck this new thing is, with the blue lights and the death?

What if you're like Mikey? Who just wants to graduate and go to prom and maybe finally work up the courage to ask Henna out before someone goes and blows up the high school. Again.

Because sometimes there are problems bigger than this week's end of the world, and sometimes you just have to find the extraordinary in your ordinary life.

Even if your best friend is worshiped by mountain lions.

Award-winning writer Patrick Ness's bold and irreverent novel powerfully reminds us that there are many different types of remarkable.
I feel like I'd been excited about reading The Rest of Us Just Live Here forever! The premise is really intriguing, and I'd heard very good things about the book.
I really enjoyed the chapter openings, which told the story of "The Chosen One" and her indie kid friends. It felt like it was kind of tongue in cheek poking fun at those kinds of stories, but at the same time, I wanted to read on and know what happened to the indie kids!
The main story, about Mikey and his friends, is quieter than the indie kids' story, but I liked it a lot. It was full of humanity and heart, with a touch of supernatural mystery, and some humour. I enjoyed Patrick Ness's writing, and although it's been a long time since I was a teenager and dealing with the mixed emotions of leaving home and friends going in different directions, a time fraught with fear and excitement and anxiety, I feel like he captured that tangle of emotions really well.
I truly enjoyed this book. Recommended!