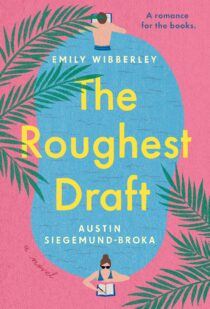 The Roughest Draft
By Emily Wibberley, Austin Siegemund-Broka Source
Library
Published by
Berkley Books
on January 25, 2022
Rating:

Three years ago, Katrina Freeling and Nathan Van Huysen were the brightest literary stars on the horizon, their cowritten books topping bestseller lists. But on the heels of their greatest success, they ended their partnership on bad terms, for reasons neither would divulge to the public. They haven't spoken since, and never planned to, except they have one final book due on contract.

Facing crossroads in their personal and professional lives, they're forced to reunite. The last thing they ever thought they'd do again is hole up in the tiny Florida town where they wrote their previous book, trying to finish a new manuscript quickly and painlessly. Working through the reasons they've hated each other for the past three years isn't easy, especially not while writing a romantic novel.

While passion and prose push them closer together in the Florida heat, Katrina and Nathan will learn that relationships, like writing, sometimes take a few rough drafts before they get it right.
This was just what I was in the mood to read when my library hold came in! It was a fun, breezy romance that was a great escape.
I absolutely loved the premise, because I love reading books about readers and writers and bookish people. There was a great look at the writing and publishing worlds, on top of a good angsty romance.
One thing I thought this book did well was the dual narration, as we get chapters from both Katrina and Nathan's perspectives. It was great to see each of their views of events, both in the flashback and present-day chapters.
I do wish that we had seen more of their friend Harriet. Her relationship with Katrina suffered after Katrina and Nathan's implosion, and I really think she was treated unfairly and then had to put up with both Nathan and Katrina being what I thought were bad friends.
I'm also not sure that I really bought into the reason for Nathan and Katrina's big fight. Because the story really drew out the reveal in terms of what the fight that led to the end of their working relationship and friendship was actually about, my expectations kept building. And then once I did learn what happened, I couldn't help but roll my eyes. But I suppose it had to allow room for the characters to grow, which they did.
Overall, this was a very fun read that made for a much lighter pick than my usual fare. Recommended!