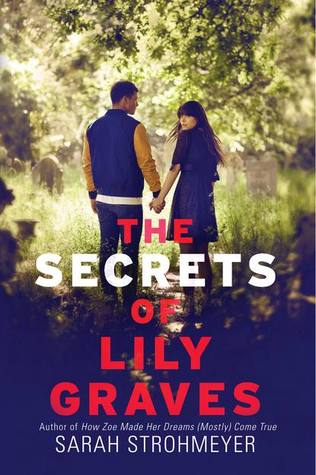 The Secrets of Lily Graves
By Sarah Strohmeyer Source
Received from the publisher
Published by
Balzer & Bray
on May 13, 2014
Received from the publisher in exchange for an honest review. This does not affect my opinion of the book or the content of my review.
Rating:

Cover image and summary from Goodreads:

With the intrigue of Pretty Little Liars and plenty of romance, bestselling author Sarah Strohmeyer weaves a story of secrets and lies—set in a funeral parlor.

Growing up in a house of female morticians, Lily Graves knows all about buried secrets. She knows that perfect senior-class president Erin Donohue isn't what she seems. She knows why Erin's ex-boyfriend, hot football player Matt Houser, broke up with her. And she also knows that, even though she says she and Matt are just friends, there is something brewing between them—something Erin definitely did not like.

But secrets, even ones that are long buried, have a way of returning to haunt their keeper.

So when Erin is found dead the day after attacking Lily in a jealous rage, Lily's and Matt's safe little lives, and the lives of everyone in their town of Potsdam, begin to unravel. And their relationship—which grew from innocent after-school tutoring sessions to late-night clandestine rendezvous—makes them both suspects.

As her world crumbles around her, Lily must figure out the difference between truth and deception, genuine love and a web of lies. And she must do it quickly, before the killer claims another victim.
I was so so excited to read this book. It was one of my most-anticipated reads of 2014, and while some of the books on my most-anticipated list ended up being a bit disappointing, this one was awesome!
Right away, I loved Lily Graves and her family, and the strange setting: they run, and live in, a funeral parlour. It was a bit macabre but not over the top – but I would stop and think about what my childhood and teen years might have been like if I'd grown up in a house with dead bodies in the basement. Definitely would have had an effect on me!
For this and other reasons, Lily is a bit of an outcast, and I always love an outcast. After a strange confrontation with Erin Donohue, Erin is discovered dead, in what at first appears to be a suicide. Lily and her best friend Sara begin to investigate, and it starts to look as though the cops suspect Lily and Matt, Erin's ex-boyfriend with whom Lily had been spending a lot of time.
The mystery in this book was really well-done. Even though I figured some of it, I didn't have it all figured out and I loved getting to the big reveal. However, that's also where my only complaint about this book lies: the end felt a bit rushed, and I would have enjoyed if it had been drawn out more.
I loved the writing in this book. There was some very good food for thought about girls and their behaviour and the expectations placed on them. Erin was seen as perfect, but was still killed, and folks in town lamented the death of a girl who had made good choices her whole life. As Lily wonders at one point, what does that imply about girls who make 'wrong' choices?
Overall, this was a great read! I really enjoyed it and definitely recommend it.
Find out more about the book on the HarperCollins site.