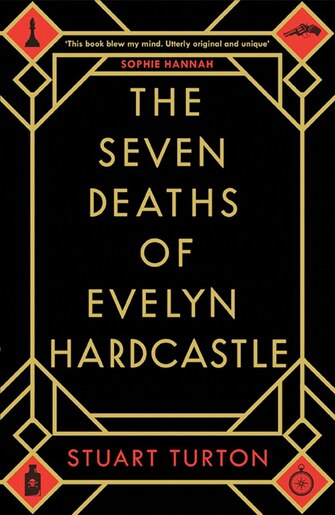 The Seven Deaths of Evelyn Hardcastle
By Stuart Turton Source
Received from the publisher
Published by
HarperCollins
on September 18, 2018
Received from the publisher in exchange for an honest review. This does not affect my opinion of the book or the content of my review.
Rating:

The Rules of Blackheath

Evelyn Hardcastle will be murdered at 11:00 p.m.
There are eight days, and eight witnesses for you to inhabit.
We will only let you escape once you tell us the name of the killer.
Understood? Then let's begin...

***

Evelyn Hardcastle will die. Every day until Aiden Bishop can identify her killer and break the cycle. But every time the day begins again, Aiden wakes up in the body of a different guest. And some of his hosts are more helpful than others...

The most inventive debut of the year twists together a mystery of such unexpected creativity it will leave readers guessing until the very last page.
I was so intrigued by this synopsis! It sounded like an intricate and twisty mystery, and I'm always up for one of those!
It took me a few chapters to really get into this book, but once I did, I was hooked. I got a real Agatha Christie vibe. This was a really fun, inventive, absorbing mystery – and I definitely didn't solve it.
I had some reservations about the ending though. For all the fantastic build-up in this book, the end was a bit disappointing. Most of the book feels like a mystery with a bit of a sci-fi twist (living the same day over and over in the body of a different host) and I really liked that, but in the end, it felt like the more the book tried to explain itself, the less I enjoyed it. But I don't think I can say anything more without spoiling this book, and I think this is a very fun book if you don't know exactly what you're getting into.
I think The Seven Deaths of Evelyn Hardcastle is a good pick for mystery lovers, and I'm sure it's a book I'll be seeing on a lot of favourite lists at the end of the year. Recommended!