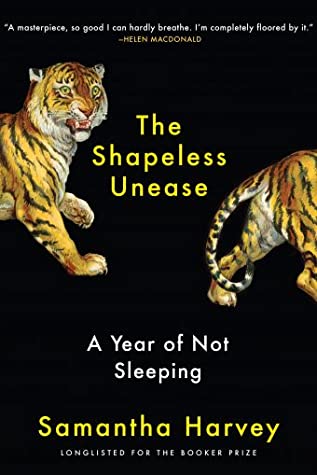 The Shapeless Unease: A Year Of Not Sleeping
By Samantha Harvey Source
Library
Published by
Grove Press
on May 12, 2020
Rating:

This genre-defying debut memoir by Betty Trask Prize winner, Samantha Harvey, weaves a tapestry of confessional anguish, flash fiction, cathartic poetry, and feverish observations on politics and psychology in a transcendent search for reality and truth.

In 2016, Samantha Harvey began to lose sleep. She tried everything to appease her wakefulness: from medication to therapy, changes in her diet to changes in her living arrangements. Nothing seemed to help.

The Shapeless Unease is Harvey's darkly funny and deeply intelligent anatomy of her insomnia, an immersive interior monologue of a year without one of the most basic human needs. Original and profound, and narrated with a lucid breathlessness, this is a startlingly insightful exploration of memory, writing and influence, death and the will to survive, from "this generation's Virginia Woolf" (Telegraph).
This short non-fiction account of author Samantha Harvey's battle with insomnia was a fast, absorbing read. It was also, at times, a very relatable examination of anxiety and the sleeplessness that can accompany it.
This is a memoir, but also an examination of time, anxiety, fear, memory, and the language that we use to convey these things. And as dark as it might sound, it was also really insightful and funny. I don't really know how to categorize it, but I loved reading it.