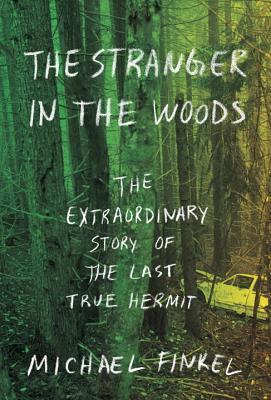 The Stranger In The Woods
By Michael Finkel Source
Purchased
Published by
Knopf Publishing Group
on March 7, 2017
Rating:

Many people dream of escaping modern life, but most will never act on it. This is the remarkable true story of a man who lived alone in the woods of Maine for 27 years, making this dream a reality--not out of anger at the world, but simply because he preferred to live on his own.

In 1986, a shy and intelligent twenty-year-old named Christopher Knight left his home in Massachusetts, drove to Maine, and disappeared into the forest. He would not have a conversation with another human being until nearly three decades later, when he was arrested for stealing food. Living in a tent even through brutal winters, he had survived by his wits and courage, developing ingenious ways to store edibles and water, and to avoid freezing to death. He broke into nearby cottages for food, clothing, reading material, and other provisions, taking only what he needed but terrifying a community never able to solve the mysterious burglaries. Based on extensive interviews with Knight himself, this is a vividly detailed account of his secluded life--why did he leave? what did he learn?--as well as the challenges he has faced since returning to the world. It is a gripping story of survival that asks fundamental questions about solitude, community, and what makes a good life, and a deeply moving portrait of a man who was determined to live his own way, and succeeded.
I don't read much nonfiction, but this synopsis grabbed my attention and I knew it was one I had to read. This was such a fascinating story! I admit, I think a lot about walking away from society and living as I wish. I'm a shy, anxious introvert and I often prefer my own company to anyone else's.
But as this book showed me, I don't think that's something to actually do! Even a curmudgeon like me would miss out on some sort of human connection, conversation, community. And what about the new stories I would miss living in the middle of nowhere, cut off from the world??
Of course, as the book makes clear, Christopher wasn't totally cut off from the world. He survived by stealing from nearby homes, including food, books, handheld video games – so the debate in the hermit community about whether or not he was a true hermit was fairly heated.
And part of what makes this story so fascinating and intriguing to me even after I'd finished reading was that the reader doesn't really get any quick answers. While the author speaks with Christopher several times, Christopher is not necessarily willing to open up and share his innermost thoughts, which of course I understand.
This was a really quick read. I didn't want to put it down once I started, and the chapters are fairly short. The author did a really great job laying out the story, giving as much background on Christopher as he could, but for me it felt like the author inserted himself into the narrative a bit too much.
Of the few nonfiction books I read in 2019, this was definitely my favourite!