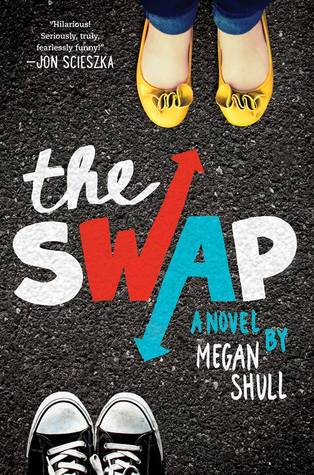 The Swap
By Megan Shull Source
Received from the publisher via Edelweiss
Published by
Katherine Tegen Books
on August 26, 2014
Received from the publisher via Edelweiss in exchange for an honest review. This does not affect my opinion of the book or the content of my review.
Rating:

Cover image and summary from Goodreads:

"YOU BE ME...AND I'LL BE YOU."

ELLIE spent the summer before seventh grade getting dropped by her best friend since forever. JACK spent it training in "The Cage" with his tough-as-nails brothers and hard-to-please dad. By the time middle school starts, they're both ready for a change. And just as Jack's thinking girls have it so easy, Ellie's wishing she could be anyone but herself.

Then, BAM! They swap lives—and bodies!

Now Jack's fending off mean girls at sleepover parties while Ellie's reigning as the Prince of Thatcher Middle School. As their crazy weekend races on—and their feelings for each other grow—Ellie and Jack begin to realize that maybe the best way to learn how to be yourself is to spend a little time being someone else.
This was a fun, cute read! After a rough day that lands them both in the school nurse's office, popular, athletic Jack and quiet Ellie somehow have a "Freaky Friday" style body swap. They just need to make it through the weekend and then figure out on Monday how to reverse whatever has happened to them.
The fun of this book was seeing Ellie and Jack try to survive a weekend in each other's shoes, because their lives are so different. Ellie is an only child and lives with her free-spirit mother. She's also dealing with a former BFF turned bully. Meanwhile, Jack is popular, lives with three older brothers and a super strict father, and feels happiest when he's playing hockey.
I enjoyed watching Ellie and Jack try to understand each other's lives, and I think that they each found something in the other person's life that they may have felt was lacking in their own. Jack seemed to relax in Ellie's life, and appreciated having a mother around after losing his about a year ago. Ellie, meanwhile, seemed to get more confidence after spending time with Jack's brothers.
It was also fun to see Jack and Ellie tackle something that was a problem for the other. For Jack, this was dealing with Sassy, Ellie's once-best friend; for Ellie, this was Jack's domineering father.
I really wish there had been more of an explanation about what caused the switch in the first place, as well as the switch back. Those parts of the book felt way too brief. I also found some of the dialogue a bit annoying at times.
The book had an adorable happy ending that made me smile. If you're in the mood for a light, fun read, pick up The Swap!