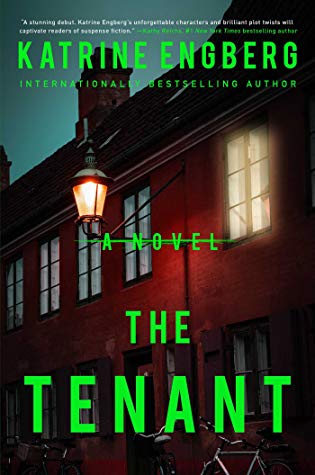 The Tenant
By Katrine Engberg Series:
Kørner/Werner #1
Source
Purchased
Published by
Gallery/Scout Press
on January 14, 2020
Rating:

When a young woman is discovered brutally murdered in her own apartment, with an intricate pattern of lines carved into her face, Copenhagen police detectives Jeppe Korner and Anette Werner are assigned to the case. In short order, they establish a link between the victim, Julie Stender, and her landlady, Esther de Laurenti, who's a bit too fond of drink and the host of raucous dinner parties with her artist friends. Esther also turns out to be a budding novelist—and when Julie turns up as a murder victim in the still-unfinished mystery she's writing, the link between fiction and real life grows both more urgent and more dangerous.

But Esther's role in this twisted scenario is not quite as clear as it first seems. Is she the culprit—or just another victim, trapped in a twisted game of vengeance? Anette and Jeppe must dig more deeply into the two women's pasts to discover the identity of the brutal puppet-master pulling the strings in this electrifying literary thriller.
This was one of my 2020 Pop Culture Resolutions picks, and I was really excited to read it. I love mysteries, particularly translated mysteries from other parts of the world, and this was one of those books that was hard to avoid. I kept seeing it any time I went in a bookstore (physical and online).
I loved the setting and reading about the Danish police system, and I liked the two main detectives, Jeppe Korner and Anette Werner (although Jeppe felt like much more of a main character than Anette. Perhaps she's featured more in book two of this series), but the story itself didn't make much of an impression on me.
I thought that the culprit was fairly predictable, and while sometimes predictable is fine in a mystery because the story leading up to the big reveal can still be fun and exciting, I didn't feel like this book was very exciting or thrilling.
That said, I would read the next in this series if it's translated into English, since I am interested in the characters and seeing more of Jeppe and Anette's partnership.