By Julie Schumacher
Source: Library
My Rating: 3 / 5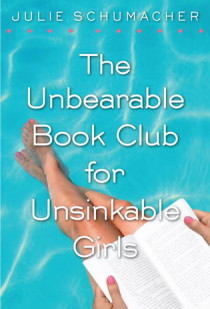 I borrowed this from the library without knowing too much about it, but I figured I've been on a roll with my YA contemporary picks so far this year, so I'd take a chance on this book.
Here is the Goodreads summary:
I'm Adrienne Haus, survivor of a mother-daughter book club. Most of us didn't want to join. My mother signed me up because I was stuck at home all summer, with my knee in a brace. CeeCee's parents forced her to join after cancelling her Paris trip because she bashed up their car. The members of "The Unbearable Book Club," CeeCee, Jill, Wallis, and I, were all going into eleventh grade A.P. English. But we weren't friends. We were literary prisoners, sweating, reading classics, and hanging out at the pool. If you want to find out how membership in a book club can end up with a person being dead, you can probably look us up under mother-daughter literary catastrophe. Or open this book and read my essay, which I'll turn in when I go back to school.
This was sort a quirky, funny read, told from Adrienne's first-person point of view in the form of an essay about her summer. She has to spend her summer vacation at home after injuring her knee, while her one and only friend is off on some sort of camping trip. Her mother signs up for a mother-daughter book club with three other girls from school, none of whom are friends with each other.
CeeCee is the requisite popular but potentially troublesome girl; Jill is the academic overachiever; Wallis is the outcast; and Adrienne is…well, this is part of the story: Adrienne isn't sure who she is or how she would describe herself. She wonders if she can attribute this, at least in part, to the fact that she doesn't know her father, but she has a difficult time trying to get too much information about him from her mother.
The book club scenes were fun to read, partly because it seemed as though the mothers were more interested in it than the daughters (except for Wallis's mother, who doesn't show up). For some reason, CeeCee seems to take a liking to Adrienne and begins showing up at her house to hang out. Lily warns Adrienne about CeeCee, noting that once school starts up again, they won't be friends. But Adrienne wants to hang out with CeeCee, and as expected, CeeCee and Adrienne (mostly Adrienne) get into some trouble when they're together. This aspect annoyed me somewhat, because I could tell that something bad was going to happen and wanted Adrienne to stop what she was doing or tell CeeCee off, but she didn't. I don't think I was ever the kind of teenager to really stand up for myself, but I also wouldn't have done some of the dumb things that Adrienne does (or lets CeeCee do, like piercing her ear in the back of a car).
The character I really felt drawn to, though, was Wallis, the strange, quiet, intelligent loner. Her mother never shows up to the book club meetings, so Adrienne, CeeCee, and Jill speculate about all the possible reasons for this. At one point, Adrienne's mother has Wallis stay with them for a few days when it appears that her mother is away and that Wallis is at home all alone. Adrienne didn't like really Wallis, at least not at first – she and the other girls thought she was weird – but I felt for her. I don't know, I think I always feel sort of drawn to the outcast characters – not because I think I am or was one, maybe it's just sympathy – and in this case, Wallis was such a mystery that I was hoping to learn more about her life.
This book was a really quick read (my library copy was around 230 pages) and while I didn't totally love it, I liked the story and Adrienne's voice. Recommended for those looking for a quick contemporary YA read.